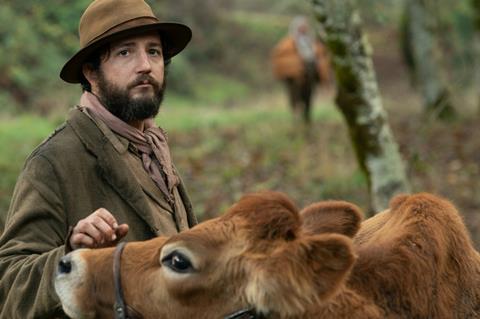 Kelly Reichardt's First Cow is to open this year's Melbourne International Film Festival, which has moved online due to the ongoing Covid-19 pandemic.
The virtual festival, titled MIFF 68 ½, will run from August 6-23 and marks the first time Australia's biggest film festival will not take place since its launch in 1952.
The selection comprises 74 features and 44 shorts from 56 countries. Some 49% of the titles include at least one female director. The screenings will be geo-blocked for Australia, marking the first time Melbourne titles can be viewed nationwide, and the shorts will be offered for free.
"Despite the extraordinary circumstances of 2020, MIFF's 'radical act' is to keep going and continue on our mission to bring you the world through unforgettable screen experiences," said MIFF's artistic director Al Cossar. "At MIFF, we are driven by a deep understanding that film has the ability to entertain, inspire, illuminate and empower audiences in a way that few other mediums can – qualities we welcome now more than ever."
First Cow was first seen at the 2019 Telluride and New York film festivals before being selected for the Berlinale.
The festival's centrepiece film is Wendy, a reimagining of the classic Peter Pan story that marks Ben Zeitlin'sd follow-up to the Oscar-nominated Beasts Of The Southern Wild. It debuted at Sundance.
The virtual event will close with Ema, Pablo Larraín's dancer drama starring Gael García Bernal and Mariana Di Girolamo, which premiered at Venice.
Further highlights include documentary Boys State, directed by Amanda McBaine and Jesse Moss, which won the US grand jury prize at Sundance; Lawrence Michael Levine's psychodrama Black Bear, starring Aubrey Plaza; and Jan Komasa's Oscar-nominated Polish drama Corpus Christi.
Cossar spoke to Screen in May, after taking the "heartbreaking" decision to cancel the 69th edition. Industry platforms 37º South Market and Accelerator Lab have now been pushed to August 2021.