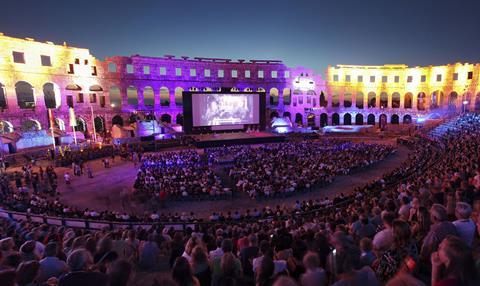 Croatia's Motovun and Pula film festivals have both been cancelled following a record number of new Covid-19 cases in the country, while major events in neighbouring countries have issued renewed commitments to press ahead.
Motovun was due to go ahead as a physical event from July 30 to August 1 while Pula was set to open this Saturday on July 18 and run on the ground until July 26.
But organisers at both events have pulled the plug after a spike of new cases in Croatia, which introduced the wearing of face coverings in stores on Monday and ordered those planning to gather more than 100 people to notify authorities and keep records of attendees.
Motovun, which is held in a hilltop village in the north of the country, had previously reduced its run from a week to three days and planned to include a feature film competition, EFA-nominated short film competition and tribute to Romanian director Radu Jude, who was to receive the Maverick of Motovun award.
However, a meeting between organisers and local authorities saw the festival branded "a high-risk event" and a proposal to cancel this year's edition was accepted.
Motovun festival director Igor Mirković said: "When we decided that the festival would take place, there were zero Covid-19 patients in Croatia and optimism was on the rise – but even back then we knew that we should be prepared for a trend reversal. We made this decision because of the responsibility that we feel for the people and visitors of Motovun and for more than a hundred members of the festival crew."
However, Buzz@teen, a festival of children's and youth films, will go ahead as planned from July 23-26 July in the nearby town of Buzet as it has been deemed not to include high-risk events. For the same reason, screenings across Istrian County are also being prepared including at Zagreb's Tuškanac Outdoor Theater from July 31-August 3 and at Zagreb's Lauba venue from August 27-September 6. But a statement from Motovun added that parts of these programmes may be offered online if the virus crisis worsens.
Pula pulled
Meanwhile, the Pula Film Festival was set to begin ticket sales ahead of its launch on Saturday and was due to open with Andrea Štaka's Croatian-Swiss feature Mare.
But it released a short statement just days away before opening, which said: "Respecting the guidelines and instructions from experts, the 67th Pula Film Festival will not be held in the traditional way, with its traditional programmes.
"In this extraordinary social moment, the health of the audience, guests, filmmakers, and media representatives is our joint and only priority; and the festival needs to adjust the programmes in order to take all necessary measures and follow the instructions for the wellbeing of all."
Festival organisers did not respond to Screen's request for further comment.
Mike Downey, chairman of the European Film Academy, is the former artistic director at Pula and one of the founders of Motovun. He told Screen: "The pandemic that the world finds itself embroiled in has decimated more than half a million lives worldwide. So it is not surprising that these small film events have been challenged with survival this year, in a way that has never before been the case, even in the darkest of political or financial days in Croatia.
"The epidemiologists have made the right decision in stopping the events. They are the experts. Their advice needs to be followed if festivals are to be informed to act in a socially responsible way. Far more important than the screening of films at summer festivals is the preservation of and an understanding of the sanctity of human life."
Sarajevo, Transilvania push ahead
Despite the cancellations and rise in coronavirus cases, festivals in neighbouring Balkan countries have issued renewed commitments to going ahead as physical events, modified in a bid to ensure the safety of all involved.
Sarajevo Film Festival (SFF), one of south-eastern Europe's leading film events, is remaining defiant that it will run as a physical event from August 14-21. The organisers said they are working with Bosnia and Herzegovina healthcare institutions to define safety protocols for all festival locations and guests.
Bosnia has been reporting record numbers of Covid-19 cases since mid-June and around 3,000 frontline medical workers in Sarajevo went on strike last Wednesday (July 8) as the country struggled to contain the second spike.
Announcing yesterday that it would honour Mexican filmmaker Michel Franco with its honorary Heart of Sarajevo award, SFF festival director Mirsad Purivatra said this year's event would mix physical and online elements, and anticipated smaller groups and fewer guests.
"We are fully aware of the responsibility we have as the organizer of such an event," said Purivatra. "Covid-19 has affected all aspects of life worldwide, and the Sarajevo Film Festival has thus been required to go through a transformation as well.
"That means smaller groups, fewer guests, no partying as we know it, but as always, lots of high-quality films and great screenings."
Transilvania International Film Festival (TIFF), held in the Romanian city of Cluj, had previously postponed its 2020 edition from May 29-June 7 to July 31-August 9 and is remaining confident it will provide an example of how to run such an event safety during a pandemic.
This is despite Romania reporting some of the highest surges in Europe, with 698 new cases and 24 related deaths reported on July 11, bringing the country's total number of cases to over 30,000.
A TIFF spokesperson said safety measures and physical distancing rules will be visibly posted across festival venues and it mandatory measures included temperature checks; social distancing of 2 metres; face masks; and the disinfection of auditoriums after each screening.
"We are facing many challenges while organizing Transilvania IFF in this difficult and uncertain context, but I do hope it will be an example about how to continue working and showing films in a safe manner," said TIFF president Tudor Giurgiu. "Our team already adapted a big industry event to outdoor conditions, the Gopo Awards - the Romanian Film Industry Awards - and it went really well. It was like a rehearsal for implementing all policies for social distancing at the festival.
"Due to global travel restrictions, unfortunately not so many guests will attend screenings and Q&A's, but some directors and industry representatives have confirmed participation."
He added that screenings will take place in more than 10 outdoor locations in Cluj and surrounding areas with a maximum of 500 spectators in attendance alongside smaller events such as masterclasses and public talks. Industry events such as Transilvania Pitch Stop will be partially moved online and a part of the official selection will also be available on the festival's TIFF Unlimited streaming platform.