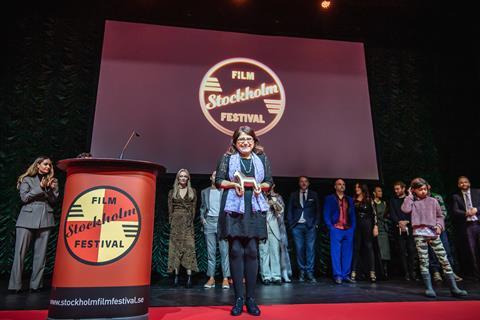 Peruvian director Melina Leon's debut feature Song Without A Name won the bronze horse for best film at the 30th Stockholm International Film Festival. The film, about baby trafficking in 1980s Peru, also won for best cinematography by Inti Briones.
The jury said Song Without A Name (which premiered at Cannes Directors' Fortnight) is "a visual and challenging portrayal of society characterized by both a low and impactful intensity. A quiet and untamable anger can be sensed below the surface. In this film we meet a director with a sharp, insightful vision, right down to the very last detail."
Meanwhile, the festival's bronze horse for best documentary went to Nanfu Wang and Jialing Zhang's One Child Nation.
The UK's Mark Jenkin won best director for Bait. Nadav Lapid and Haim Lapid won best script for Synonyms.
Nina Hoss won best actress for The Audition, while Bartosz Bielenia won best actor for Corpus Christi.
You Deserve A Lover by Hafsia Herzi won best first film.
Kantemir Balagov was presented with this year's Stockholm Impact Award for Beanpole. The prize comes with $100,000 (1 million SEK) and a statuette designed by Ai Weiwei.
Actress Celie Sparre was named 2019's Stockholm Rising Star, and the director Tova Mozard won the event's 1 Km Film short film scholarship.
The Fipresci award went to François Ozon's By The Grace Of God, while the audience award winner was Taika Waititi's Jojo Rabbit.
The festival, which ran Nov 6-17, screened more than 150 films from 60+ countries.
Netflix's new Nordic deals
During the festival's Industry Days, speakers included MUBI's Efe Cakarel, Helene Auro from REinvent Studios, and Swedish Film Institute CEO Anna Serner.
Lina Brouneus, director of licensing and co-productions for Netflix in Northern Europe, announced the company's latest moves in the Nordics at the festival. Netflix is now making its first Swedish and Norwegian original films: Alain Darborg's action thriller Red Dot will be produced by SF Studios; and Jarand Herdal's horror film Cadaver will be produced by Motion Blur Films.
Netflix has also acquired international rights to Ole Bornedal's Shadows In My Eyes, which will have a theatrical release in Denmark (via SF Studios) before launching on the platform. Miso Film produces the story about the British air force's accidental bombing of a French school in Copenhagen in World War 2.
Also at Stockholm's Industry Days, the Swedish Film Institute confirmed the three recipients of its Wild Card funding and at the SFI's Short Pitch, Oskar Willers won financial support for his next short film Gökungen.