Turkish director Nuri Bilge Ceylan's Competition title.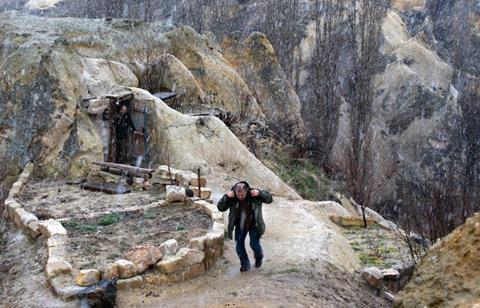 Memento Film International (MFI) has acquired international rights to Turkish Nuri Bilge Ceylan's Winter Sleep and Argentine Diego Lerman's Refugiado ahead of their Cannes premieres.
Ceylan's Palme d'Or contendor Winter Sleep, revolves around retired actor Aydin, who runs a hotel in central Turkey with his emotionally estranged wife and a sister, who is getting over a divorce.
As winter closes in, the hotel becomes both a shelter and a prison. Differences come to a head and Aydin contemplates taking off. The film is set against the beautiful high plateau of Cappadocia.
It is Ceylan's sixth film to screen in competition at Cannes, where he has picked up three prizes including the Grand Jury Prize for Once upon a Time in Anatolia in 2011.
Winter Sleep has already generated a fair amount of attention on the basis of its length, which extends to three hours and 16 minutes. But MFI's sales chief Tanja Meissner called it one of Ceylan's "most accessible" yet.
"The film still resonates, long after seeing it," said Meissner, MFI's head of international sales and acquisitions. "It's a wonder to watch, a completely involving experience. With its emotional reach, this could easily be Nuri Bilge Ceylan's most accessible film yet."
Aside from the festival screenings, MFI will also hold a buyers only screening on May 19.
Sister French distribution company Memento Films is due to release Winter Sleep in France on August 13.
MFI is also handling Argentine Diego Lerman's Refugiado, which premieres in Directors' Fortnight. It follows a mother and her young son as they look for a safe place to live after escaping her violent partner.
"We've wanted to work with Diego Lerman for a long time now," commented Meissner. "We're great fans of his sensibility and style. With Refugiado, he brings both qualities to tackle the too universal subject of domestic violence, with great tact and empathy."
The company will also continue sales on Jim Mickle's thriller Cold in July, which premiered at Sundance and is screening in Directors' Fortnight.
Beyond the festival, MFI will market premiere Uruguayan Alvaro Brechner's comedy Mr. Kaplan, about an elderly Jewish man who is convinced he has discovered a Nazi war criminal on the run.
It will also show a first promo for Richard Glatzer and Wash Westmoreland's Still Alice, starring Julianne Moore, with support from Alec Baldwin, Kristen Stewart and Kate Bosworth, as a professor of neuroscience suffering from early on-set Alzheimer's disease.
A script will also be available for Jason Lew's The Free World, which is set to star Cillian Murphy as a wrongly convicted prisoner who falls for a battered woman on his release with violent consequences.