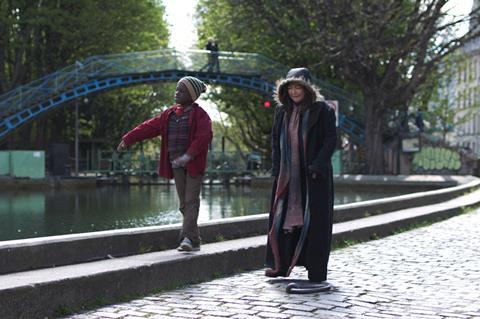 Memento Films International (MFI) has unveiled pre-sales on Claus Drexel's French-language drama Under The Stars of Paris starring Catherine Frot, ahead of its market premiere at Unifrance's Rendez-vous with French cinema in Paris this weekend.
The Paris-based sales company has pre-sold the film to a slew of European territories including Switzerland (JMH distributions), Denmark (41 Shadows), Portugal (Outsider Films), Greece (Spentzos) and Bulgaria (6A Media).
It has also been acquired for Brazil (A2 Filmes), Mexico (Alamedia), China (QC Media), Taiwan (Cai Chang), Israel (Lev Cinemas) and airlines (Skeye).
Frot stars as a homeless woman whose lonely existence is divided between soup kitchens and foodbanks and endlessly wandering the streets. She once had a home and a job until an unexplained personal tragedy struck.
When a sobbing, disorientated Burkinabe boy creeps into the storage space where she sleeps on the banks of the River Seine in central Paris one freezing winter night, she at first shoos him away.
But he is persistent and buried maternal instincts kick-in. When she learns he has become separated from his mother, they embark on a journey across underground Paris in search of her.
It is the fourth feature of German director Claus Drexel, who lives and works mainly in France, after drama Family Values and documentaries On The Edge Of The World, about the homeless in Paris, and America, capturing life in a small town in Arizona during the 2016 US presidential election.
Under The Stars Of Paris is inspired by real stories he heard and witnessed when shooting On The Edge Of The World.
It is produced by Etienne Comar at Arches Films and Didar Domehri at Maneki Films.