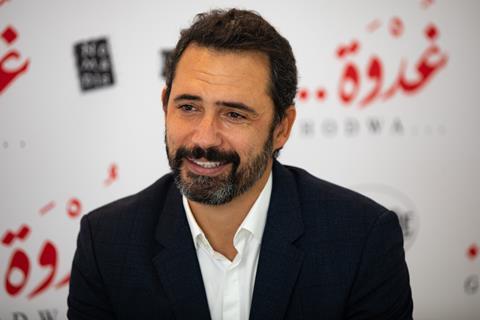 Tunisian acting star Dhafer L'Abidine is making his directorial debut with father and son drama Ghodwa, which he also produces and stars in.
The storyline revolves around an estranged father and son who are brought together after the older man falls ill. With time running out, a series of unexpected events reverse their traditional roles. The title Ghodwa translates as "tomorrow' in English.
The production began shooting in Tunis last week.
"I always wanted to direct, but I wanted to find the right story. Ghodwa is a story that is very close to my heart, and that I feel strongly about. It's a Tunisian story, but its social and human aspects have universal appeal," said L'Abidine.
He co-wrote the screenplay in collaboration with Egyptian filmmaker and writer Ahmed Amer, whose writing credits include the political drama Winter Of Discontent and festival hit Ali, The Goat And Ibrahim.
L'Abidine is producing under the banner of his company Double A, in collaboration with Tunisian producer Dora Bouchoucha at Tunis-based Nomadis Images and Alaa Karkouti and Maher Diab at Egypt's Mad Solutions.
"The script of the film attracted me. I usually choose my projects based on the idea behind them before starting to write the script and implement the film," said Bouchoucha.
Her past productions include award-winning Tunisian films such as Hedi and Dear Son as well as the Egyptian Berlinale title Souad, which she co-produced.
Tunisian born L'Abidine trained as an actor at the UK's Birmingham School of Acting and began his career in TV dramas such as Dream Team, Spooks, Casualty, The Bill, before returning to the Middle East where he won fame for his roles in popular shows such as Destiny (Maktoub) and Prince Of Poets alongside also working in Europe and the US.
He now enjoys an international career with recent credits ranging from Netflix's French-speaking serial drama The Eddy to Arabic-language vampire horror feature Bloodline and romantic drama Bride Of Beirut.