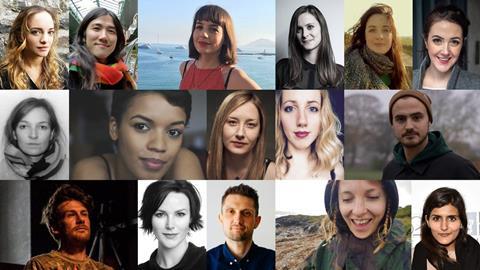 The BFI and Bafta have revealed 16 emerging filmmakers and the mentors who will guide them as part of their ongoing initiative to develop talent from under-represented groups.
Veep director Becky Martin and Candyman writer-director Nia DaCosta are among those who will mentor upcoming talent as part of the second BFI Network x Bafta Crew Mentoring scheme.
Others who will provide bespoke support, advice and guidance to young filmmakers as they work toward their first feature or major commission include American Animals director Bart Layton, Pride screenwriter Stephen Beresford and Beast director Michael Pearce.
Producer Zorana Piggott (Fanny Lye Deliver'd), producing team Mike Brett and Steve Jamison (Notes On Blindness), BBC Comedy commissioning editor Sarah Asante, and Run screenwriter Kirstie Swain will also provide mentoring guidance.
The initiative forms part of a wider programme of events and networking opportunities for emerging talent to connect with each other and the wider industry. The year-round professional development initiative is currently supporting 800 individuals as the progress in the industry, with mentoring sessions taking place digitally as part of the BFI and Bafta's commitment to support talent throughout the Covid-19 lockdown.
The mentees and mentors for 2020 are:
Alice Russell (director) - Penny Woolcock (director, Tina Goes Shopping)
Alice Seabright (writer/director) - Sarah Asante (commissioning editor, comedy, BBC)
Carys Lewis (writer/director) - Loran Dunn (producer, A Deal With The Universe)
Cecile Emeke (writer/director) - Nia DaCosta (writer/director, Top Boy, Candyman)
Ella Jones (director) - Becky Martin (director, Succession, Veep)
Georgina French (producer) - Rachel Robey (producer, The Levelling)
Jack Benjamin Gill (writer/director) - Michael Pearce (writer/director, Beast)
Jayisha Patel (writer/director) - Bart Layton (writer/director, The Imposter, American Animals)
Jen Corcoran (producer) - Zorana Piggott (producer, Fanny Lye Deliver'd)
John Hickman (writer) - Matthew James Wilkinson (producer, Yesterday)
Kate Stonehill (director) - Marc Silver (director, 3 ½ Minutes, Ten Bullets)
Lauren Parker (producer) - Camille Gatin (producer, The Girl With All The Gifts)
Lydia Rynne (writer) - Kirstie Swain (writer, Pure, Run)
Mototake Makishima (writer/director)- Mike Brett and Steve Jamison (producers, Notes On Blindness)
Peter Darney (writer/director) - Stephen Beresford (BAFTA-winning writer, Pride)
Sarah Page (writer) - Sarah Quintrell (writer, Ellen, The Trial: A Murder In The Family)