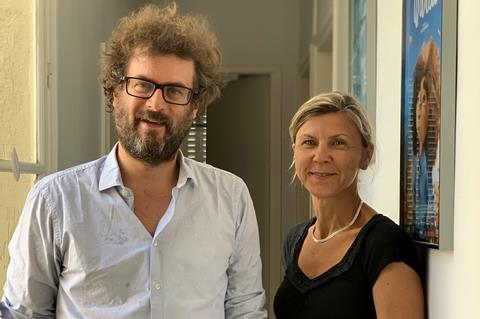 Paris-based film company Jour2Fête is rebranding the merged sales operations of its recent acquisition Doc & Film International and in-house sales team under the banner of The Party Film Sales.
Jour2Fête's French theatrical distribution business will continue to operate under its existing name.
Sarah Chazelle and Etienne Ollagnier's Jour2Fête acquired Paris-based Doc & Film International last October, following the departure of its long-time CEO Daniela Elstner for French cinema agency Unifrance to take up the role of managing director.
Under the deal, the aim was to merge the existing staff, infrastructure, slates and catalogues of both sales divisions.
According to Jour2Fête's latest update, the merged team will be co-managed by former Doc & Film International sales executive Clémence Lavigne and Samuel Blanc, who spearheaded the creation of an international sales division at Jour2Fête.
The rest of the team comprises Estelle De Araujo (head of TV sales), Clémence Michalon (sales manager), Théo Lionel (festival manager), Melen Bouetard (TV sales executive) and Coline Bouret (marketing and servicing).
"It's really a marriage and our will is to carry on with the spirit of both companies. We want to build a line-up of carefully picked fiction films and documentaries for international sales, some of which will be part of our French distribution slate," said Chazelle and Ollagnier in a joint statement.
Elstner, who has now taken up her new role at Unifrance, said she was confident that Chazelle and Ollagnier would continue the work of Doc & Film under the new banner.
"Joining forces between two entities with the same taste is the perfect answer to a challenging market. I am thrilled to see both companies evolving under a new banner and I wish them all the best for this new adventure," she said.
Feted documentarian Frederick Wiseman, whose complete filmography was handled by Doc & Film until now, said he was "happy" to continue to work with the new merged team.
The Party Film Sales will make its market debut at the EFM. Previously announced titles on its slate include Pompei, which will screen in the Generation section; Guillaume Brac's À l'abordage which will premiere in Panorama; and Lucas Belvaux's upcoming drama Home Front.
Doc & Film International was created in 1996 by a consortium of French production houses including among others Agat Films & Cie, Achipel33, JBA Productions, and Lapsus.
Aside from Wiseman's films, other productions on its slate included Golden Bear winners Fire At Sea by Gianfranco Rosi and Touch Me Not by Adina Pintillie, Pierre Schoeller's The Minister, Leyla Bouzid's As I Open My Eyes and more recently Filippo Menghetti's Two Of Us.
Chazelle and Ollagnier co-founded Jour2fête in 2006, with a focus on distributing around 10-12 independent films per year. In 2012, it expanded its activities into international sales with a slate of five films a year. Their catalogue includes Mounia Meddour's Papicha; Rúnar Rúnarsson's Echo; Silver-Bear Winner Félicité by Alain Gomis; Beauty And The Dogs by Kaouther Ben Hania and Free To Run by Pierre Morath.