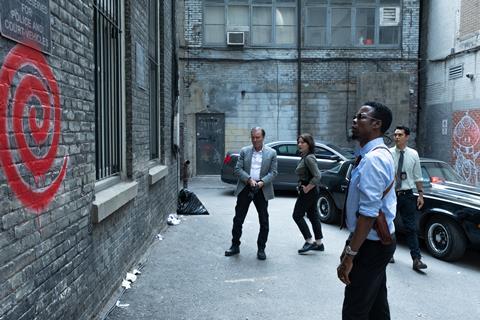 MGM/Miramax's Guy Ritchie thriller Wrath Of Man starring Jason Statham will open via UA Releasing on May 7, while Lionsgate has moved up Spiral: From The Book Of Saw starring Chris Rock and Samuel Jackson to May 14.
The schedule changes come after Disney pushed Black Widow from May 7 to July 9.
Wrath Of Man had been set to open on April 23, while Spiral was previously set for May 21.
Rock conceived of the idea for Spiral and stars as Ezekiel "Zeke" Banks, a brash detective and son to a revered police veteran (Jackson) who investigates a series of murders that echo the city's grisly past.
Max Minghella plays Banks' rookie partner and the cast includes Marisol Nichols. The film was previously dated May 21.
Darren Lynn Bousman directed Spiral from a script by Josh Stolberg and Pete Goldfinger. The original Saw team of Mark Burg and Oren Koules produce the Lionsgate release of a Twisted Pictures presentation of a Burg/Koules production.
Over the course of eight Saw films spanning 2004-17, the franchise grossed nearly $1bn worldwide.