Wearing produced Boys from the Blackstuff, Pride and Prejudice, Edge of Darkness and many more.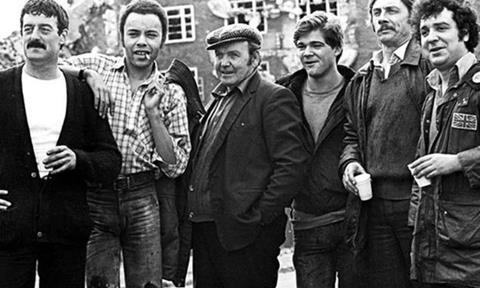 Michael Wearing, producer of iconic television dramas including Boys from the Blackstuff and Edge of Darkness, has died aged 78 (reports Broadcast).
Wearing (right), who held a number of senior positions across drama at the BBC, died on Friday 5 May following a stroke. Wearing is survived by his three children, Sadie, Ella and Ben.
After studying anthropology at Newcastle University and a short career in the theatre, Wearing joined the BBC's English regions drama department as a script editor in 1976.
Reporting to David Rose, who went on to become founder of Film 4, at the BBC's Pebble Mill base in Birmingham, Wearing worked with writers including Alan Bleasdale and Ron Hutchinson on a number of Play for Today scripts.
He also worked on series including Stephen Davis' Trouble With Gregory, which aired as part of BBC2's Playhouse strand, Hutchinson's six-part factory drama Bull Week and Malcolm Bradbury's four-part drama The History Man.
Boys from the Blackstuff
But it was Bleasdale's 1982, five-part BBC2 drama Boys from the Blackstuff, a follow up to one of his Play for Today's, that led Wearing to move to London. The iconic series followed the stories of five tarmac layers from Liverpool after they travelled to Middlesbrough for work.
Reporting to the BBC's head of series and serials Jonathan Powell, Wearing went on to produce Troy Kennedy Martin's Edge of Darkness in 1985.
The political crime drama was a huge hit for BBC2 and picked up six Baftas.
Wearing briefly moved to ITV, where he produced 1987 film Bellman and True for Euston Films, Thames TV and Handmade Films, before partnering with Our Friends In The North writer Peter Flannery on legal drama Blind Justice.
In 1988, he rejoined the BBC as head of serials and oversaw shows including Middlemarch, Pride and Prejudice, Our Mutual Friend, Paula Milne's Die Kinder, Hanif Kureishi's The Buddha of Suburbia, Dennis Potter's Karaoke and Tony Marchant's Holding On.
Named the 38th most influential person in British television history by Broadcast in 2005, Wearing was an outspoken critic of BBC management during his tenure at the public broadcaster.
He was particularly critical of the appointment of John Birt as director general in 1992, believing that Birt's policies were stifling creativity at the corporation.
He resigned from the BBC in 1998, going on to receive the Royal Television Society's highest accolade, the Cyril Bennett Judges Award, having previously been awarded Bafta's Alan Clarke Award for outstanding creative achievement in television.
In recent years, he worked closely with Irish Screen and also oversaw a feature film version of Edge of Darkness, starring Mel Gibson.
The family is expected to confirm details about Michael's funeral shortly.