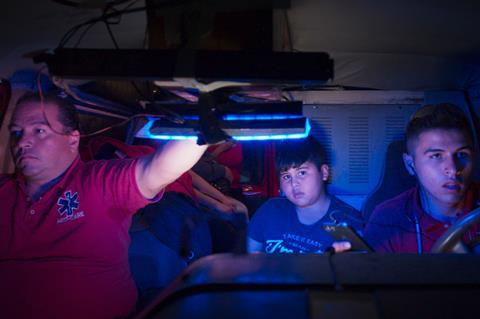 Luke Lorentzen's feature documentary Midnight Family, about a struggling, family-run ambulance service in Mexico City, won the best Mexican film award, worth $25,000 as the Guadalajara International Film Festival came to a close. The film made its world premiere at Sundance in January.

Jaime Rosales' Petra won the $12,500 award for best Iberoamerican film, while Ricardo Calil's Brazilian feature Cinema Morocco won the best Iberomerican documentary prize, worth $7,500. The $5,000 audience award went to Acelo Ruiz's Mexican feature Oblatos.
The festival's new competitive international animation section awarded its main prize to Japanese master Mamoru Hosoda's Mirai No Mirai . The international jury was headed by festival supporter and local hero Guillermo del Toro.
On the industry side, the Co-Production Meetings presented prizes to Colombia's Mauricio Leiva, Chile's Claudia Huaiquimilla, and Mexico's Ricardo Soto.
The Guadalajara Construye (Works in Progress) awards were won by Piola by Luis Alejandro Perez (Otro Foco Films, Chile); The Furies by Tamae Garateguy (Rio Films, Argentina); and Three Body Problem by Carlos Lenin (CUEC, Mexico).
A new $120,000 Jenkins-del Toro Fund for two emerging Mexican directors to continue their film studies went to Maria Candelaria and Alejandro Rios who received $60,000 each.
Animation takes centre stage
The first edition of the festival under new head Estrella Araiza – the former market director who replaced Ivan Trujillo – marked a turning point for Guadalajara. In addition to launching the new animation competition, she also added the TV Pitchbox, which is run with Filmarket Hub and caters to TV series.
Guadalajara native del Toro, who already works closely with the festival, is now collaborating with the event to develop an International Animation Center to open later this year at the state-of-the-art Guadalajara University Cultural Centre (CAE). It already houses the festival headquarters and its core venues.
Netflix is already interested in the plans: Melissa Cobb, Netflix's vice-president of kids and family content, attended the festival to present a masterclass and visit the burgeoning facilities. Del Toro is working with Netflix to producing the Tales Of Arcadia animated series and will start production this autumn on a stop-motion musical version of Pinocchio for Netflix.
Araiza said in the future the festival could even venture into animated co-productions.
A number of significant deals were announced during the festival including the creation of new Mexican production offices by Fabula, the prolific Fremantle-backed outfit run by Chile's Pablo and Juan de Dios Larrain, the reteaming of Alebrije Productions' Monica Lozano and Eamon O'Farrill with director Ernesto Contreras on his new film Impossible Things; and new IMCINE guidelines announced by head Maria Novaro.
Guadalajara is the most important local event on the calendar for the Mexican industry but it faces a stiff challenge from the Morelia International Film Festival, which takes place in October. Guadalajara ran from March 9-16.