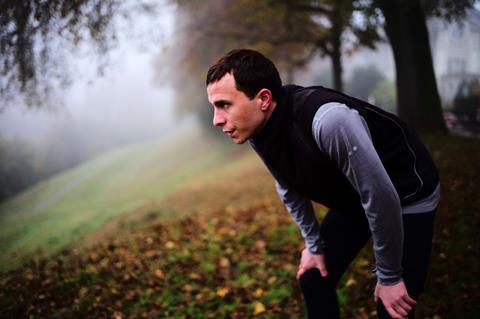 Switzerland's Contrast Film, which is currently enjoying a buzzy response to it San Sebastian and Zurich Film Festival competition title Midnight Runner, has a busy slate ahead of more button-pushing projects.
Stefan Eichenberger and Ivan Madeo, who both produce Midnight Runner, run Zurich- and Bern-based Contrast with filmmaker Urs Frey.
In production now is documentary Caveman, by Italy's Tommaso Landucci (lead produced by DocLab Rome). The story is about a 50-year-old Italian sculptor working for 30 years on one work of art underground in a cave. "It's the question of going out as an artist or feeling safe in his cococon," Madeo said. "Can you make a living from your most intimate passion?"
Oliver Rihs' $4m (Euros 3.5m) Storm will shoot from late spring 2019 in Switzerland, Germany and Spain, telling the story of Walter Storm, Switzerland's most famous criminal who was also a prison escape artist. The film will be co-produced with Germany's Niama Film; Ascot Elite will handle Swiss distribution.
Madeo explained, "It's a period piece set in the 1970s and 1980s about the biggest outlaw in Switzerland. He had a tragic relationship with Barbara Hug, his lawyer. He became an icon for the left wing political movement in the 1970s."
In late 2019, the company will shoot the French-language The Good Reputation; about a society woman who starts a forbidden relationship with her nephew. The film (co-produced with France's Manny Films) marks the feature debut of Student Oscar winner Mauro Mueller. The cast will feature Vincent Perez and Kacey Mottet-Klein. "It's a very Swiss story about a rich family in Switzerland where everything is perfect, but behind this façade is a lot of problems," Madeo said.
Also in development is Marlen's Garden by Christine Repond (Vakuum), an explosive drama about a female factory worker who starts a relationship with a 14-year-old. "Christine Repond again goes to the extreme, this time a love story with this topic of female pedophilia. They'd die to be tougher, but of course society is not accepting such a love. So Christine is asking that big question."
Contrast is also working on a big European TV series co-production, which is still under wraps but will have a budget over €10m.
Contrast obviously isn't making genteel Swiss stories. Madeo said, "That's why we are called Contrast, the name is a mission, to confront people with a reality that exists and maybe that people here in Switzerland want to ignore."
The company's past films include Stefan Haupt's The Circle (Switzerland's 2015 Oscar entry) and the 10-director project Wonderland, as well as a number of Frey's documentaries
Midnight Runner
Hannes Baumgartner's debut feature Midnight Runner (Der Läufer) is based on the true story of a Swiss long-distance runner, Jonas Widmer, who starts to live a double life as a serial assaulter of women; the cast is led by Max Hubacher, a previous EFP Shooting Star.
Be For Film boarded sales ahead of the film's world premiere in San Sebastian's New Directors Competition; it has screened this week at the festivals in Zurich and Athens. Filmcoopi releases Midnight Runner in Switzerland today on 34 screens.
Contrast had the idea to tell Widmer's story but discovered that independent screenwriter Stefan Staub was also eyeing the story, so they joined forces with him and he co-wrote the script with Baumgartner.
Baumgartner sees similar themes to his shorts like Teneriffa, Dead Man and My Best Friend. "It's circling around this topic of friendship and violence and men not really connecting with their feelings. This disconnectedness leads to violence."
Baumgartner added that you don't need to know the real-life case of Widmer to appreciate the film, "This film is not only a film about this specific case but I also think it's a scheme that happens with a lot of young men who can't cope with their emotions or deal with rejection."
Madeo added, "From the beginning, we knew we wanted to make a movie that does not guide the spectator. We wanted to make a film that observes, a film without score music that doesn't influence the emotions of the audience."
The team worked with psychologists and forensic experts while developing the film, and plan a series of screenings in Switzerland with psychologists present to talk about the issues of the character.
The film will next play at festivals including Gijon, Filmfestival Max Ophuls, and Crossing Europe in Linz.
Midnight Runner is produced by Contrast in co-production with Swiss Radio and Television, SRG, SSR, Teleclub, with support from the Bern Film Fund, Zurich Film Fund, Cultural Department Canton Thurgau, MEDIA and Burgergemeinde Bern.