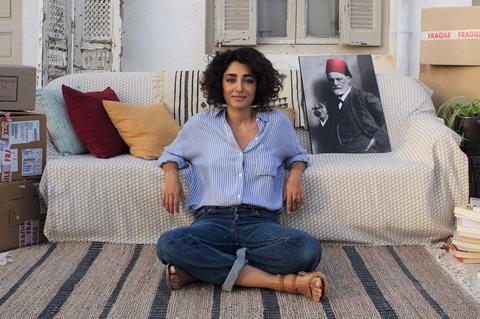 Paris-based sales company mk2 will kick off sales on Manele Labidi's Tunisia-set comedy-drama Arab Blues, starring Golshifteh Farahani, at the Unifrance Rendez-vous with French Cinema in Paris (Jan 17-21).
Farahani, whose recent credits include Girls Of The Sun and Paterson, plays a psychoanalyst who opens up a practice in a working-class suburb of the Tunisian capital Tunis not long after the country's 2011 revolution and attempts to treat a procession of colourful clients.
"It is a sophisticated comedy in the way it offers a fascinating window into modern Tunisia at a crossroads," said Juliette Schrameck, managing director of mk2 films
Kazak Productions is producing the feature, which is due for delivery in the first half of 2019. Diaphana has acquired rights for the French distribution. mk2 will premiere first footage at the Unifrance Rendez-vous.
New Guédiguian Film
Continuing its relationship with Robert Guédiguian, mk2 will also launch sales on the prolific French director's previously announced film Gloria Mundi.
The director reunites with long-time collaborators Ariane Ascaride, Jean-Pierre Darroussin, Gérard Meylan, Anaïs Demoustier, Robinson Stévenin, Grégoire Leprince-Ringuet and returns to his trademark setting of the city of Marseille.
Billed as a social drama, the feature revolves around a young couple, who have recently become parents to a baby girl called Gloria, and an ex-convict grandfather as they try to make ends meet.
"It is a tale of the modern working-class, as sharp in its portrayal of the violence and cruelty of our world as it is optimistic, with thunderbolts of humour and humanity," said Schrameck.
It is Guédiguian's 21st feature, and the third time mk2 has handled one of his films after Cannes 2015 Palme d'Or contender Don't Tell Me The Boy Was Mad and The House By The Sea, which was in competition in Venice in 2017.
mk2 notes that The House By The Sea enjoyed a successful arthouse career in territories across Europe in 2018, drawing some 106,000 spectators in Italy, 61,000 in Spain and 33,000 in Scandinavia.
Completed films on mk2's Rendez-vous slate include Amanda and Pearl.