In a shock finale to Sunday's 89th Academy Awards, the drama was named best picture moments after La La Land had been declared the winner in error.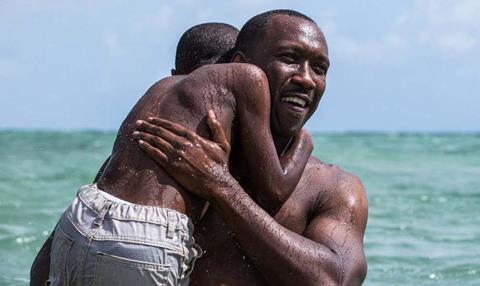 Faye Dunaway had announced the musical as the winner at the Dolby Theatre after co-presenter Warren Beatty, who opened the envelope and appeared lost for words, handed it to his Bonnie And Clyde co-star.
As chaos reigned, Beatty walked up to the microphone and explained the envelope read, "Emma Stone, La La Land".
The actress had already received her best actress Oscar in one of the key awards of the night alongside Casey Affleck's triumph in the best actor category for Manchester By The Sea.
La La Land won six Oscars on the night led by Stone and Damien Chazelle, who became the youngest person to win the best directing Oscar. The film started the night on a joint-record 14 nominations.
Barry Jenkins and Tarell Alvin McCraney were popular winners in the adapted screenplay category for Moonlight. The film's three wins, alongside a best supporting actress award for Viola Davis from Fences and Ezra Edelman's documentary triumph for O.J.: Made In America will go a long way towards soothing – for one year at least – the hurt felt over last year's #Oscarssowhite furore.
Kenneth Lonergan accepted the original screenplay award for Manchester By The Sea in the film's only other prize. Ben Affleck and Matt Damon – winners of this award for Good Will Hunting 19 years ago – presented the honour to Lonergan.
Damon was a producer on the film, which earned two wins for Amazon Studios in a significant marker of how a streaming service can get behind a campaign and present a highly attractive alternative to working for a traditional distributor.
Meryl Streep – nominated a record career 20 times for an actor – used her Oscar show platform to pay subtle homage to the unifying power of film when she joined Javier Bardem on stage to present the cinematography award.
"Truth is hard to reveal," Streep said, "but when it happens on the movie screen filmgoers, no matter where they are from, feel their hearts soar."
Sweden's Linus Sandgren won the cinematography prize for La La Land. The musical also triumphed in the original score and original song categories, adding to an earlier win for the production design.
While Streep's appearance did not replicate the power of her stirring Golden Globes speech in January, when she spoke out against a climate of bullying and incurred the wrath of US president Donald Trump, her presence was no less powerful.
At the start of Sunday's show host Jimmy Kimmel was in arch mood when he paid tribute to Streep for her "many uninspiring over-rated performances", in reference to Trump's notorious tweet in January that the star was "over-rated".
Hacksaw Ridge won two Oscars for editing for John Gilbert and sound mixing, which prompted an emotional Kevin O'Connell from the sound mixing team to pay tribute to his mother after winning his first Oscar in 21 attempts.
In the most overtly political moment of Sunday's show – and the biggest pure upset of the night before the best picture finale – Asghar Farhadi's Iranian drama The Salesman trumped Maren Ade's German contender Toni Erdmann to win the best foreign-language award.
Farhadi boycotted the show in protest over US president Donald Trump's ill-fated executive order – now the subject of a stay by the courts – banning entry into the country by citizens from seven Muslim-majority countries including the director's native Iran.
Iranian female engineer and astronaut Anousheh Ansari read a statement by the filmmaker – who previously won this award for A Separation in 2012 – in which he lambasted the travel ban as "inhumane".
Zootopia was named best animated feature following some choice words by presenter Gael Garcia Bernal that added to the dignified sense of political outrage that pervaded the show in the wake of the early controversial days of the new White House administration.
"As a Mexican, as a Latin American, as a migrant worker, as a human being, I am against any form of wall that wants to separate us," Bernal said.
Zootopia co-director Rich Moore said: "[W]e are so grateful to the audiences all over the world who embraced this film with this story of tolerance being more powerful than fear of the other."
Davis was named best supporting actress for Fences, while earlier in the show Mahershala Ali won the first prize of the night, taking best supporting actor for Moonlight. Both actors won this year's Screen Actors Guild Award.
Alessandro Bertolazzi, Giorgio Gregorini and Christopher Nelson won the makeup award for Suicide Squad, while Colleen Atwood won her fourth costume design Oscar for Fantastic Beasts And Where To Find Them. The Jungle Book won the visual effects Oscar.
In an emotional moment, the three female leads from Hidden Figures invited African-American physicist Katherine Johnson – portrayed by Taraji P Henson in the film – to the stage to announce best documentary feature winner O.J.: Made In America.
Director Edelman paid tribute to the late Ron Goldman and Nicole Brown, whose murders in Los Angeles in 1994 haunt the documentary, adding: "It is also for others: the victims of police violence, police brutality, racially motivated violence and criminal injustice. This is their story as well as Ron and Nicole's."
In reference to the #Oscarssowhite furore that blew up last year, Academy president Cheryl Boone Isaacs took to the stage and spoke hopefully of the ongoing diversity evolution of membership.
In a statement that suited the broader political mood, she added: "Tonight is proof that art has no border, art has no single language and does not belong to a single faith."
The White Helmets won best documentary short film. It emerged earlier in the weekend that the film's Syrian cinematographer Khaled Khateeb could not attend the Oscars when Turkish officials blocked his departure from Istanbul to Los Angeles due to a vaguely worded "derogatory information" irregularity over his status.
Justin Timberlake opened the show with a smooth rendition of Oscar-nominated 'Can't Stop The Feeling' from Trolls that morphed into Bill Withers's Lovely Day.
Show host Kimmel engaged in predictable banter with Timberlake and peppered his performance with jokes targeted at long-running 'adversary' Matt Damon.
He told plenty of political gags, too, engaging in Twitter baiting of Trump, who appeared to stay off the social media platform throughout the ceremony.
"This show is now being watched around the world by millions of Americans in 225 countries that now hate us," Kimmel said at the start. In another barb aimed at the White House, he said: "Remember last year when people thought the Oscars were racist?"
Kimmel also riffed on several of the best picture nominees, adding that "black people saved NASA [Hidden Figures] and white people saved jazz [La La Land]."
Click here for full list of winners.