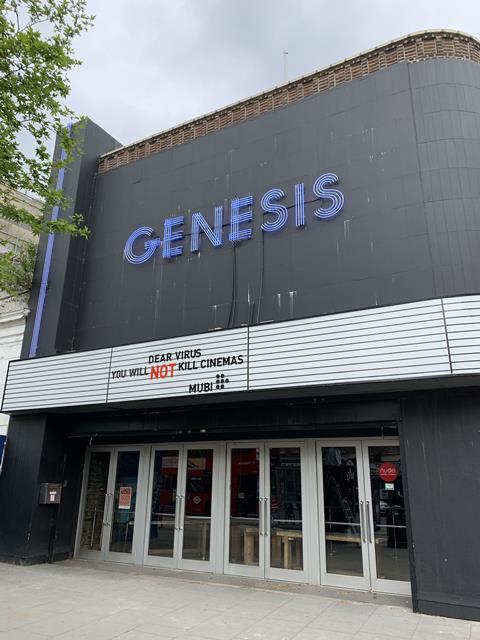 Streaming service Mubi has launched a UK Cinema Fund in a bid to support exhibitors impacted by the coronavirus pandemic.
The fund has been launched with a £10,000 donation from Mubi and the campaign aims to raise £100,000. The total will be donated to the BFI FAN Covid-19 Resilience Fund, which was set up this month to offer relief to exhibitors across the UK.
Funds will be used to support independent cinemas, film festivals and other organisations that have been closed in a bid to stem the spread of the virus.
To raise awareness of the initiative, Mubi has collaborated with a selection of London cinemas to hire their marquees and display the message: "Dear virus, you will not kill cinemas."
The venues include the Phoenix (one of London's oldest operating cinemas), the Genesis Cinema, Rio Cinema and Catford Mews. Mubi plans to work with other cinemas to bring further attention to the campaign.
Efe Cakarel, founder and CEO of Mubi, said: "We have been working closely with UK festivals and cinemas for years and have been deeply saddened seeing the impact of the closures. We want to support them in any way we can during this incredibly difficult time, because we can't imagine a world without them. We hope this fund gives them some of the support they need to re-open as soon as it's possible."
The web page for the fund will be open to donations until May 25 and Mubi will drive people to the page via their social channels; to UK users in an email newsletter; and are contacting filmmakers and industry members to help spread the word.
Donations made will be formally received by The Showroom Workstation in Sheffield, an independent cinema partner that acts as the administrator for the Film Hub North, which is part of the BFI's Film Audience Network. Film Hub North, in coordination with the Film Audience Network and the BFI, will then distribute funds raised to cinemas based on need.
UK-based Mubi operates as an international streaming platform and is also a distributor. Its last release in the UK before lockdown was Bacurau on March 13, which had its theatrical run cut short due to widespread cinema closures on March 20. As a result, the Brazilian thriller, directed by Juliano Dornelles and Kleber Mendonça Filho, received an early digital release and has become one of the most-watched films on the platform in the UK and Ireland to date.
Mubi will also present a free preview of Pablo Larraín's Ema on May 1, having missed its original theatrical release on April 17.
In parallel with other streaming services that have seen a surge following lockdown, Mubi's subscribers grew 65% in the UK in the first quarter of 2020 as audiences turned to home entertainment when quarantine came into effect.
Last month, distributor Modern Films launched an initiative to support independent UK theatres nationwide during the coronavirus crisis, inviting audiences who stream films through their own website to select an independent cinema at the point of purchase, which would benefit from an undisclosed percentage of proceeds.