French mini-major adds executives to global distribution operation.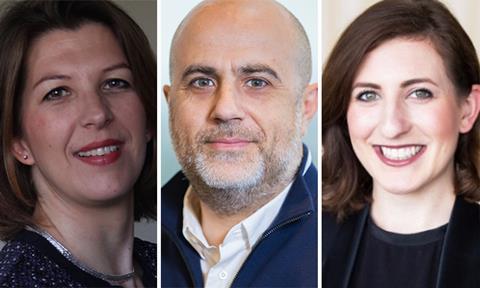 Gaumont has brought on several executives to its global distribution team following the appointment earlier this year of Vanessa Shapiro as president of worldwide TV distribution and co-production.
In Paris, Cecilia Rossignol (top, laft) has been appointed vice-president of international TV sales, drama, responsible for selling and pre-selling Gaumont's US and French television programming within the EMEA territories, as well as solidifying partnerships for European co-productions.
Rossignol joins Gaumont from FranceTV Distribution where she was in charge of TV sales for France Télévision's catalogue to North America and several European territories. From 2014 to 2016, she was head of sales and acquisitions at 100% Distribution, and prior to that served at Newen Distribution.
In Los Angeles, Cherie Johnson has joined as vice-president of marketing to develop strategic marketing initiatives for international TV sales, while Robby Amar (top, centre) has joined as vice-president, TV acquisitions and distribution, to focus on acquiring new TV series from third-party producers for worldwide distribution. Each reports directly to Shapiro.
Johnson previously served as west coast managing director for outdoor media planning and buying agency Kinetic. Prior to that, she was executive director of media marketing, promotions, and partnerships at Game Show Network from 2009 to 2013.
Amar most recently served as executive director of international sales for MarVista Entertainment. He previously served as director of international sales at Rive Gauche Television.
Additionally, Rebekah Zabarsky (top, right) has joined Gaumont as manager of marketing, reporting to Johnson. Zabarsky joins from talent management agency The Digital Brand Architects.
The new appointments are in addition to the recently announced appointment of Laura Laas to the post of vice-president of international TV sales, animation, who is based in Paris.
"2017 will be a year of significant growth for Gaumont with over 40 drama series across multiple genres in development between our Los Angeles and Paris offices, and our new focus on acquisitions from third party producers," Shapiro commented. "The appointment of these highly respected and accomplished executives will be of paramount importance as we move into the production of new content over the next few months both in the US, and with our European co-production partners."