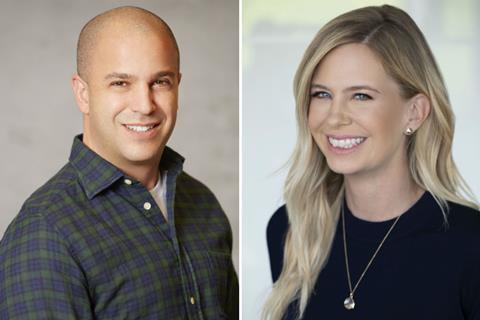 Nathan Kahane has been named president of the Lionsgate Motion Picture Group, reuniting him with group chairman Joe Drake, with whom Kahane co-founded Good Universe.
Also joining the Lionsgate Motion Picture Group, as executive vice-president of production, is former Good Universe and Disney executive Erin Westerman.
Lionsgate acquired Good Universe last October.
Kahane, who was also partnered with Drake at Mandate Pictures, has served as a producer or executive producer on over 30 films, among them Juno, the Harold & Kumar series, This Is The End, Neighbors, The Grudge and Evil Dead.
Westerman was responsible for The Disaster Artist and Don't Breathe at Good Universe and Cinderella and Into The Woods at Disney.
Drake commented on the appointments: "I have worked alongside Nathan as an executive, entrepreneur and producer for 15 years, during which he has demonstrated a combination of great leadership skills, a game-changing approach to filmmaking, and talent relationships that are second to none. He has exactly the right skill set to sharpen the focus of our film slate, deepen our relationships with world-class talent, and lead our Motion Picture Group to the next level of performance."
Kahane added: "I'm thrilled by the opportunity to join a great leadership team at one of the most innovative and exciting studios in the business. I look forward to assembling a commercially exciting, diverse slate of films that establishes Lionsgate as a premier destination for the top creative talent in the world. I'm also pleased to see Erin Westerman expand her managerial role, as she has already proven her superb creative instincts, talent relationships and keen eye for top properties on which we will be focused."
Lionsgate's upcoming slate includes Uncle Drew, Blindspotting, The Spy Who Dumped Me, The Kingkiller Chronicle, John Wick: Chapter Three and Chaos Walking.