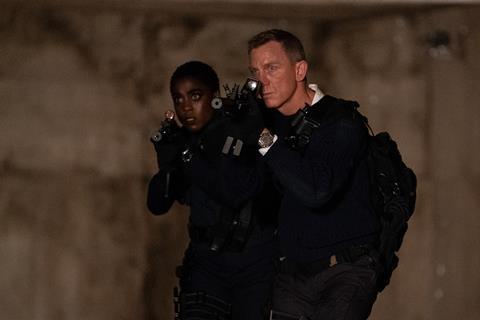 A stellar performance for October at the global box office could see final takings for the year finish 80% ahead of 2020, according to projections by film tech firm Gower Street Analytics.
The company has revised its global box office forecast for 2021 to $21.6bn, up from its previous projection of $20.2bn, revealed in September.
This would be 80% ahead of 2020's $12.4bn, although still 49% behind 2019's $42.5bn – an all-time record.
The figure is boosted by October takings that are estimated to end at $3.2bn, up 30% from the original prediction of $2.5bn.
This would put October business just 4% behind the average of the three pre-pandemic years for that month; no previous month in 2021 has performed better than 40% behind the three-year average.
China is the major territory factor in this gain, with box office predicted to gross 41% ahead of the three-year average for October, having tracked well below the average for the period from June-September.
Market share for the Asia-Pacific region is expected to grow from 50% in 2020 to 52% for 2021. China is again the primary reason, with projections of 34% global box office in 2021 compared to 28% in 2020.
Europe, the Middle East and Africa has been the main loser in this regard, falling from 23.1% share to 21.6%.
The revised estimation has been partly due to the strong performance of Chinese blockbuster The Battle Of Lake Changjin, which had taken a huge $828.1m in the country as of last weekend to be the third-highest grossing film ever in China; plus international rollouts for Universal's James Bond title No Time To Die and Sony's Venom: Let There Be Carnage.