Figure marks second highest spend in five years.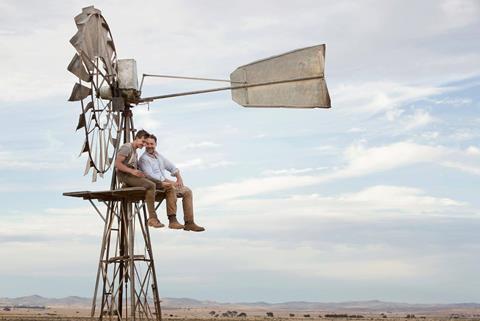 A total of $260m (A$297m) was spent in Australia on the 35 homegrown features that went into production during the 12 months up to June 30 2014, the second highest level of expenditure since 2008/09.
A further $54m (A$62m) was spent abroad across the total slate.
Nearly all these films are yet to be released but local audiences don't have long to wait.
Paul Fenech's Fat Pizza Vs Housos releases on Nov 27 (Transmission), Russell Crowe's directorial debut The Water Diviner (Entertainment One) on Dec 26 and Robert Connolly's Paper Planes on Jan 15 (Roadshow). But one of the biggest contributors, Alex Proyas's Gods of Egypt, will not be released until 2016.
Three of the 35 films were co-productions. Only rarely are more than 35 films made in Australia but having three co-productions in the mix is pretty normal. What is not the norm is that all three were with Germany, although production house See-Saw's Life also involved Canada. The other two were Elixir and Maya The Bee Movie.
The figures are included in Screen Australia's Drama Report. The annual statistical summary always reveals much about the country's feature film and TV drama sector.
An interesting aspect of the figures is that direct government investment in Australian feature films has fallen to 8%, and an examination of earlier reports shows it hasn't been this low for a decade.
That said, 26-29% of the cost of the slate in each of the last five years, has been returned to the producer in the form of tax rebates. In other words, indirect government investment is now an important contributor to film production.
More than half the total cost of the films (51%) came from foreign sources – encompassing 17 of the 35 titles. In the last five years this percentage has roamed between 23% and 51%. Local film and television players, in particular distributors, contributed 10% of the total budget and the rest came from private sources.
A total 23 of the 35 films had budgets of less than $5.2m (A$6m) – films made for less than $435,000 (A$500,000) are not counted in the figures unless they are released in a cinema or screened at a festival – and only three were made for more than $8.7m (A$10m).
Data about foreign features in Australia is also gathered and included in the report. Nine such films commenced filming in Australia during the financial year in question, spending $140m (A$159m). This was a good result given that three of the previous five years recorded hardly any overseas activity at all – principally because of a high Australian dollar.
The latest examples of offshore production are Angelina Jolie-directed Unbroken, San Andreas starring Dwayne Johnson, the unofficial US-Chinese co-production The Moon And The Sun, and UK film The Inbetweeners 2. The creative teams behind two other Chinese films also filmed in Australia.
A further $31m (A$35m) was earned by Australian companies providing post, digital and visual effects work on 15 foreign films that were filmed elsewhere. Titles including Avengers: Age of Ultron, A Million Ways To Die In The West and X-Men Days Of Future Past.
The industry was recently buoyed by the news that Pirates of the Caribbean: Dead Men Tell No Tales will be filmed in Australia and currently shooting is Truth, starring Cate Blanchett and Robert Redford.
While activity levels are high there has been a lot of negative publicity around the lack of success of Australian films in cinemas in the past few months.