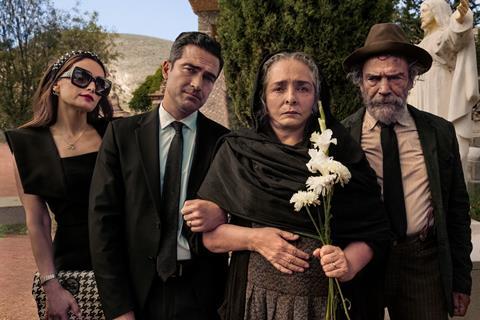 Netflix has announced the latest film from Fernando Frias and the feature directorial debut of cinematographer Rodrigo Prieto as it launches an initiative to raise the profile of local filmmakers in the run-up to Mexico's national cinema day on Monday (August 15).
Under #QueMéxicoSeVea, which translates as Let Mexico Be Seen, Netflix will present the latest from Frias – I Don't Expect Anyone To Believe Me (No Voy A Pedirle A Nadie Que Me Crea) – whose I'm No Longer Here was acquired by the streamer and represented Mexico in the international feature Oscar race a couple of years ago.
Darío Yazbek, Natalia Solian, Alexis Ayala and Anna Castillo star in the feature based on the novel by Juan Pablo Villalobos in which a Mexican scholarship student gets kidnaped as he is about to fly to Barcelona.
Prieto's film Pedro Paramo is based on the novel by Juan Rulfo about a man who promises his dying mother he will set out to meet his father for the first time and encounters a ghost town. Redrum is producing. Prieto's cinematography credits include The Irishman, The Wolf Of Wall Street, 21 Grams and Alexander.
The roster of upcoming Netflix films includes Elissa Miller's Hurricane Season (Temporada de Huracanes), currently in post-production; El Ultimo Vagon from Ernesto Contreras, whose I Dream In Another Language premiered at Sundance in 2017 and played Guadalajara; and Ricardo Castro's debut, the comedy Bahía Colorada.
Dark comedy Invitation To A Murder (Invitación a un Asesinato) starring Maribel Verdú, Regina Blandón and Manolo Cardona sees JM Cravioto (Diablero, Monarca, Mexican Gangster) direct from the novel by Carmen Posadas.
Coming up in the next few months is comedy Escape Of The Queens (Fuga de Reinas) written by and starring Martha Higareda about four friends in different stages of their lives who decide to take a trip together. Jorge Macaya makes his directorial debut. Comedy La Gran Seducción from Celso García (The Thin Yellow Line) stars Memo Villegas, Yalitza Aparicio and Pierre Louis and is produced by Nicolás Celis (Roma, Prayers For The Stolen.)
Political satire ¡Qué viva México! (pictured) stars Damián Alcázar, Alfonso Herrera, Joaquín Cosío, while Ruido directed by Natalia Beristáin stars Julieta Egurrola as a woman searching for her daughter against Mexico's backdrop of chronic violence against women.