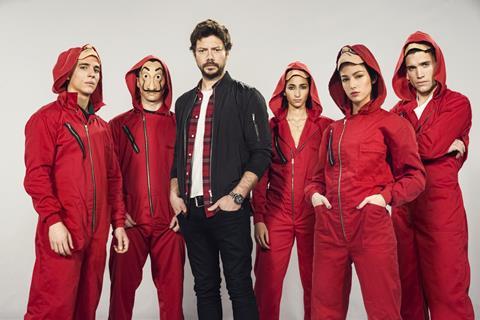 Netflix's aggressive investment in Spanish-language content bucked an early 2019 trend of declining Latino subscribers as the same demographic has been leaving Amazon Prime Video, according to new research.
A report by IHS Markit | Technology shows that Netflix saw a steep decline in its Latino audience from November 2018-April 2019, dropping 9% from 71% penetration to 64%.
However over the next six months Netflix's penetration climbed 4% to 67%, while over the same period Latino reach on Amazon Prime Video fell from the low 40th percentile in April 2019 to below 40% by November 2019. Prior to that, Prime's Latino audience had climbed from roughly 35% in November 2018.
IHS Markit | Technology said Netflix increased its Spanish-language content by nearly 30,000 hours from December 2018-September 2019, while Amazon's declined by 2,000 hours.
One in five US Latino respondents to a November 2019 survey who subscribed to Netflix in the past year cited "local content" as the reason for subscribing to Netflix. IHS Markit | Technology conducted online surveys in November 2019 and questioned a nationally representative quota sample of adults aged 18-64 in the US who identfied as Hispanic or Latino. Controls were placed on age interlocked by gender, region and working status.
According to the research, nearly 14% of Netflix's catalogue comprised Spanish-language content in September 2019 as the number of hours increased by 12% to 274,000 hours when compared to 246,000 hours at the end of 2018. TV series Money Heist (La Casa de Papel) in particular has earned a popular following in the US, South America, and Spain.
In December Netflix said Money Heist 3 was the most-watched show in six countries in 2019: Italy, Spain, Brazil, France, Belgium, and Israel.
"The movement of Latino audiences from Amazon to Netflix reflects the two services' level of investment in Spanish-language content," said Fateha Begum, principal research analyst at IHS Markit | Technology. "Although Amazon leads in overall video content, with a total of 3.4million hours of programming, Netflix offers 15 times more hours of Spanish-language content than Amazon Prime Video. In terms of total hours of Spanish programming, Netflix is the clear leader in the US video streaming market, followed by Hulu."
Survey respondents revealed US consumers are increasingly prone to add or drop video services, and the trend appears to be more pronounced in the Latino community. One in five US households cancelled a video service from November 2018-2019 and did not return to it. At the same time, nearly 30% of OTT subscribers signed up to at least one new OTT service. There were 56m new OTT paid subscriptions in the period.
The study said Latinos are twice as likely to cancel and re-subscribe to a video service compared to other consumers, and 50% are more likely than "the average consumer" to only stay on a service during the free trial period.
In contrast to a year before, Prime Video was the most cancelled video service among Latinos between November 2018 and November 2019, while Netflix took the top spot among all respondents.
The study said Latinos are more likely than the "average consumer" to select a wider range of devices and watch on a specific device. Latino consumers (individuals not households) on average use more than three devices a month to access video services. While connected-device penetration tends to be marginally lower in Latino homes, the demand for device accessibility is attributed to generally larger family sizes of four or more.