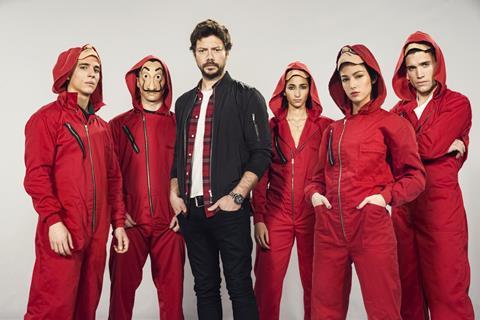 Local language films and TV shows lead the list of most popular content viewed on Netflix in eight countries outside the US in 2019.
The streaming platform released the information on Monday (December 30), based on the number of accounts that watched at least two minutes of a film or TV show in its first 28 days of release on the platform. While the number of accounts is not revealed, it does illustrate how local audiences continue to respond to Netflix's aggressive local language production strategy.
Sacred Games 2 topped the list in India, The Naked Director in Japan, Quicksand in Sweden, Kingdom in South Korea, Money Heist S3 in Spain, Undercover in the Netherlands, The Stranded in Thailand, and Home For Christmas in Norway. The top release in the UK was US documentary The Disappearance Of Madeleine McCann.
Murder Mystery starring Adam Sandler and Jennifer Aniston came in at number one in nine countries (US, Canada, Australia, Mexico, Colombia, Argentina, Singapore, UAE, and New Zealand); Money Heist: Part 3 (Casa de Papel S3) led in six (Italy, Spain, Brazil, Israel, France, and Belgium); The Witcher in six (Germany, Taiwan, Denmark, Poland, Austria, and Finland); and 6 Underground in four (Philippines, Malaysia, Switzerland, and South Africa).
Netflix projected viewership over 28 days where shows like The Witcher, which debuted on December 20, have existed on the platform for less time. On Monday research group Parrot Analytics reported separately that, based on its proprietary metrics, the fantasy action show starring Henry Cavill was the most in-demand show around the world from December 22-28, outstripping average demand for shows by a factor of 37.12, compared to The Mandalorian (a factor of 32.7) and Game Of Thrones (26.17).
Martin Scorsese's Oscar contender The Irishman ranks fifth in the US, UK and Spain, third in Canada and Italy, sixth in Australia and Argentina, ninth in Mexico, and tenth in Germany.
Top 10 most popular Netflix releases by country:
US

Top 10 Most Popular Releases of 2019 (US)
1. Murder Mystery
2. Stranger Things 3
3. 6 Underground
4. The Incredibles 2
5. The Irishman
6. The Witcher
7. Triple Frontier
8. Extremely Wicked, Shockingly Evil And Vile
9. The Umbrella Academy
10. The Highwaymen
UK
Top 10 Most Popular Releases of 2019 (UK)
1. The Disappearance Of Madeleine McCann
2. 6 Underground
3. Murder Mystery
4. The Witcher
5. The Irishman
6. After Life
7. Stranger Things 3
8. Our Planet
9. Sex Education
10. Conversations With A Killer: The Ted Bundy Tapes: Limited Series
Canada

Top 10 Most Popular Releases of 2019 (Canada)
1. Murder Mystery
2. 6 Underground
3. The Irishman
4. Stranger Things 3
5. The Witcher
6. Triple Frontier
7. Extremely Wicked, Shockingly Evil And Vile
8. The Highwaymen
9. The Incredibles 2
10. The Umbrella Academy
France
Top 10 Most Popular Releases of 2019 (France)
1. Money Heist: Part 3
2. The Witcher
3. 6 Underground
4. Sex Education
5. The Umbrella Academy
6. Stranger Things 3
7. You: Season 2
8. Triple Frontier
9. Elite: Season 2
10. Family Business
Germany
Top 10 Most Popular Releases of 2019 (Germany)
1. The Witcher
2. 6 Underground
3. Money Heist: Part 3
4. Murder Mystery
5. Triple Frontier
6. Jumanji: Welcome To The Jungle
7. Sex Education
8. Isn't It Romantic
9. Stranger Things 3
10. The Irishman
Italy
Top 10 Most Popular Releases of 2019 (Italy)
1. Money Heist: Part 3
2. 6 Underground
3. The Irishman
4. Stranger Things 3
5. Murder Mystery
6. Sex Education
7. The Witcher
8. The Perfect Date
9. Triple Frontier
10. Baby: Season 2
Spain
Top 10 Most Popular Releases of 2019 (Spain)
1. Money Heist: Part 3
2. The Witcher
3. 6 Underground
4. Elite: Season 2
5. The Irishman
6. Stranger Things 3
7. Triple Frontier
8. Despite Everything
9. Murder Mystery
10. Sex Education
Australia
Top 10 Most Popular Releases of 2019 (Australia)
1. Murder Mystery
2. 6 Underground
3. The Witcher
4. Isn't It Romantic
5. Lunatics
6. The Irishman
7. Stranger Things 3
8. Extremely Wicked, Shockingly Evil And Vile
9. Triple Frontier
10. Dead to Me
Brazil

Top 10 Most Popular Releases of 2019 (Brazil)
1. Money Heist: Part 3
2. Murder Mystery
3. 6 Underground
4. The Witcher
5. The Perfect Date
6. Triple Frontier
7. Sintonia
8. Whindersson Nunes: Adult
9. Isn't It Romantic
10. Sextuplets
Colombia

Top 10 Most Popular Releases of 2019 (Colombia)
1. Murder Mystery
2. Money Heist: Part 3
3. Crime Diaries: Night Out
4. 6 Underground
5. The Perfect Date
6. Klaus
7. Tall Girl
8. Elite: Season 2
9. Fractured
10. Triple Frontier
Mexico

Top 10 Most Popular Releases of 2019 (Mexico)
1. Murder Mystery
2. 6 Underground
3. Como Caído Del Cielo
4. The Perfect Date
5. Triple Frontier
6. Crime Diaries: The Candidate: Limited Series
7. The House Of Flowers: Season 2
8. Suicide Squad
9. The Irishman
10. Klaus
Argentina
Top 10 Most Popular Releases of 2019 (Argentina)
1. Murder Mystery
2. Money Heist: Part 3
3. Apache: The Life Of Carlos Tevez
4. 6 Underground
5. Triple Frontier
6. The Irishman
7. The Two Popes
8. Fractured
9. Stranger Things 3
10. El Potro: Unstoppable
India
Top 10 Most Popular Releases of 2019 (India)
1. Sacred Games: Season 2
2. Kabir Singh
3. Article 15
4. Bard of Blood
5. Drive
6. Badla
7. House Arrest
8. 6 Underground
9. Delhi Crime
10. Chopsticks
Japan
Top 10 Most Popular Releases of 2019 (Japan)
1. The Naked Director
2. Terrace House: Tokyo 2019-2020: Part 3
3. 6 Underground
4. Gintama 2: Rules Are Made To Be Broken
5. Rilakkuma And Kaoru
6. Ultraman
7. Call Boy
8. Neon Genesis Evangelion
9. The Witcher
10. Aquaman
South Korea
Top 10 Most Popular Releases of 2019 (South Korea)
1. Kingdom
2. 6 Underground
3. The Witcher
4. Crash Landing On You
5. Park Na-rae: Glamour Warning
6. Persona: Collection
7. When The Camellia Blooms
8. Love Alarm
9. Stranger Things 3
10. Vagabond
Taiwan
Top 10 Most Popular Releases of 2019 (Taiwan)
1. The Witcher
2. The Naked Director
3. Nowhere Man
4. 6 Underground
5. Love, Death & Robots
6. Murder Mystery
7. Kingdom
8. Isn't It Romantic
9. Street Food: Volume 1: Asia
10. Marriage Story
Sweden
Top 10 Most Popular Releases of 2019 (Sweden)
1. Quicksand
2. The Witcher
3. 6 Underground
4. Murder Mystery
5. The Irishman
6. Triple Frontier
7. Stranger Things 3
8. Extremely Wicked, Shockingly Evil And Vile
9. Isn't It Romantic
10. The Highwaymen