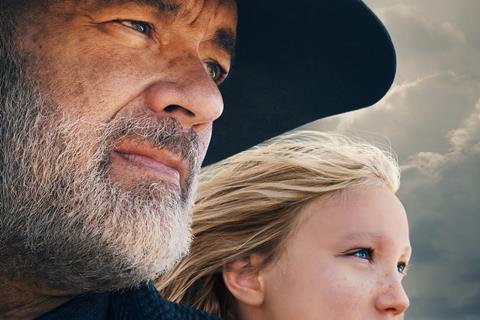 Netflix is taking all international territories on Universal's awards hopeful News Of The World, the western that reunites Tom Hanks with his Captain Phillips director Paul Greengrass.
Sources confirmed the development on Wednesday night (November 11) whereby Universal will proceed with its planned theatrical release in the US on December 25.
The US release is well within the extended Oscar qualifying deadline of February 28, 2021.
Furthermore Universal will be able to move the film from AMC cinemas in the US onto PVoD after a minimum of 17 days, in line with its revenue-share deal with the embattled exhibitor. This will not apply to non-AMC cinemas screening News Of The World.
The move comes as Covid-19 cases have surged across Europe, triggering lockdowns and tighter restrictions in countries.
Observers said Universal is acting to mitigate potential damage to the film's international box office prospects in key markets. International frequently accounts for the lion's share of a temtpole's global ticket sales.
Despite Netflix taking on international territories, News Of The World will still be eligible for Bafta consideration. Like the Academy and other awards bodies, Bafta has tweaked its eligibility rules and clarified the situation last month so that films intended for theatrical release that end up on an "approved commercial VoD platform" may qualify.
In News Of The World Hanks plays a Civil War veteran who escorts a young girl through hostile territory.