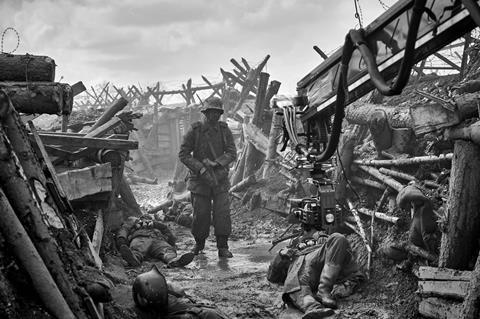 Netflix has unveiled 19 upcoming films and series from Germany, Austria and Switzerland as it works to strengthen its slate of German-language productions.
The projects are part of the streaming giant's push into local content, doubling investment to €500m between 2021 and 2023. Five films, nine series and five non-fiction titles were showcased at the streamer's Content Remote Show this morning, offering a preview of the year ahead.
The films include the previously announced All Quiet On The Western Front, directed by Edward Berger and starring Daniel Bruhl, and Buba, a spin-off from hit series How to Sell Drugs Online (Fast), directed by Arne Feldhusen and starring Bjarne Mädel.
New titles are led by Blood And Gold, a spaghetti western that builds on Netflix's collaboration with director Peter Thorwarth and producer Christian Becker of Rat Pack Filmproduktion following Blood Red Sky, which achieved 53 million views in the first 28 days of release.
Blood And Gold is set shortly before the end of the Second World War and follows a German soldier who deserts in search of his only surviving daughter and is targeted by a marauding SS troop, who are searching for a Jewish gold treasure hidden in a remote village. Written by Stefan Barth, shooting will take place in the first half of 2022.
Also upcoming is Faraway, billed as "a film by women for women", which was shot mostly on the island of Solta in Croatia with an international cast around Naomi Krauss and Goran Bogdan. Director Vanessa Jopp directed from a script by Jane Ainscough, and producer is Viola Jäger of Olga Film.
The new film titles are rounded out by Paradise, set in a not-too-distant future in Germany where eternal youth can be bought at a hefty price. Produced by Neuesuper, Simon Amberger, Korbinian Dufter and Rafael Parente are teaming up with writers Peter Kocyla, Simon Amberger and Boris Kunz, who is also directing. The cast includes Corinna Kirchhoff and Kostja Ullmann.
On the series front, titles include eight-part drama Achtsam Morden, based on the bestselling book of the same name by Karsten Dusse, and produced by Constantin Film, which is also producing an adaptation of Romy Hauman's Liebes Kind for the streamer.
Further series include King of Stonks, previous titled Cable Cash, a financial thriller inspired by real events from Philipp Käßbohrer and Matthias Murmann; and action-thriller Kleo, which tells the story of a Stasi killer in Berlin during the German reunification, played by Jella Haase.
Speaking at Netflix's second Content Remote Show this morning, Katja Hofem, who joined the DACH team as VP of local language series in November, said the streamer aimed to "set new milestones in serial storytelling and increase our footprint in the German market."