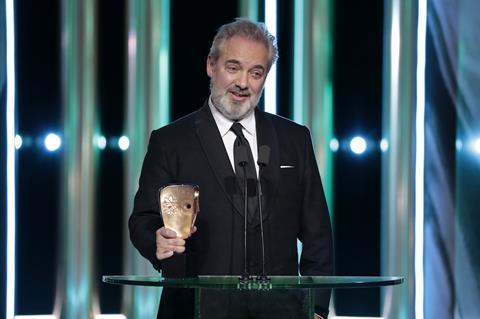 Netflix has unveiled a slate of seven UK scripted originals from creatives including Rowan Atkinson, Sam Mendes, Joe Cornish, Sophie Petzal and Joe Barton.
Spanning multiple genres, the series will be filmed throughout the nations and regions of the UK, including the north, south west and Wales. The original commissions are part of Netflix's continued investment in the UK creative ecosystem, with the streaming giant set to invest $1bn (£744.1m) on UK content this year.
The series includes Baby Reindeer (eight x 30-minutes), written by Sex Education alumnus and Edinburgh Comedy Awards winner Richard Gadd and produced by Clerkenwell Films. Based on a true story, the 2019 Edinburgh Fringe one-man stage-play follows Gadd's warped relationship with his female stalker and the impact it has on him as he is ultimately forced to face a deep, dark buried trauma.
Also on the slate are dramas Cuckoo Song (working title) and The Seven Deaths Of Evelyn Hardcastle.
The former, written by Bridgerton's Sara Dollard, Andrea Gibb and Corinna Faith, is a horror telling the story of two warring sisters – one human, one monster – who must unite to reverse a supernatural pact that's gone wrong. The six-part series is produced by Catalyst Global Media and Doghouse Pictures and based on the novel by Frances Hardinge.
Murder mystery The Seven Deaths (seven x 60-minutes) is adapted form the Costa Award-winning debut novel by Stuart Turton. Created and written by Sophie Petzal,, the House Productions drama is a high-concept thriller with a puzzle at the heart – how do you solve a murder when every time you are getting close to the answer, you wake up in someone else's body?
Created by Blackadder's Rowan Atkinson and Will Davies and produced by House Sitter Productions, comedy short-form series Man vs Bee (10 x 10-minutes) sees a man get involved in a war with a bee while housesitting a luxurious mansion.
Meanwhile, Guardian sports journalists Barney Ronay and Jonathan Liew have written The Red Zone, which is produced by Sam Mendes' Neal Street Productions. The six x 30-minute football comedy is about the people and characters who collide in this strange, obsessional world.
Half Bad (eight x 60-minutes) is from Imaginarium Productions and written by Giri/Haji's Joe Barton. It follows the 16 year-old son of the world's most feared witch.
Finally, in Lockwood & Co (8 x 60-minutes) a group of gifted teenage ghost-hunters venture into perilous combat with deadly spirits, amidst the many corporate, adult-run agencies. The supernatural action-adventure detective series, based on the best-selling novels by Jonathan Stroud, is produced by Complete Fiction
"It's the people - the talent both in front of and behind the screen - that makes [the UK] the second biggest producing territory for Netflix outside the US," said Anne Mensah, vice-president of UK original series at Netflix. "This was always about building a base and setting up the business in the UK for the long term and there is so much more to come."
A version of this story first appeared on Screen's sister site Broadcast.