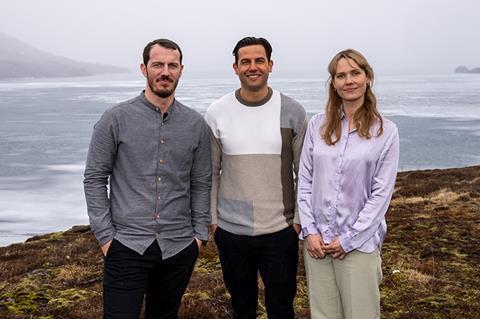 New Europe Film Sales has boarded sales on Ulaa Salim's second feature, sci-fi love story Eternal, which has started shooting in Aarhus, Denmark; Bergen; Norway; and Iceland.
Daniel Mühlendorph of Hyæne Film is producing.
New Europe also sold Salim's 2019 debut feature Sons Of Denmark (which premiered in competition at Rotterdam), and has a long history with the film's Icelandic co-producer, Netop Films (Rams, Under The Tree).
Salim writes and directs the film, which is set after an earthquake causes a mysterious fracture on the ocean floor, which accelerates climate change. One of the scientists researching the fracture suddenly reunites with a singer he once loved.
The cast includes Simon Sears (Shadow And Bone, Shorta) as the scientist and singer Nanna Øland Fabricius in her first leading film role. The cast also includes Magnus Krepper, Halldóra Geirhardsdóttir, Zaki Youssef and Morten Holst.
Delivery is expected in mid-2023 and Nordisk will release in Scandinavia from August 2023.
Backers include The Danish Film Institute, Den Vestdanske Filmpulje, the Danish Broadcasting Corporation, Icelandic Film Centre, Nordisk Film & TV Fond, New Europe Film Sales, RUV, Sena and Reykjavik Visuals.
Key crew includes DoP Jacob Møller, production designer Gustav Pontoppidan, composer Valgeir Sigurdsson, and editors Jenna Mangulad and Mads Michael Olsen.
Jan Naszewski, New Europe's CEO said: "I cannot wait to see Ulaa's take on a story, which combines emotions with strong sci-fi elements."