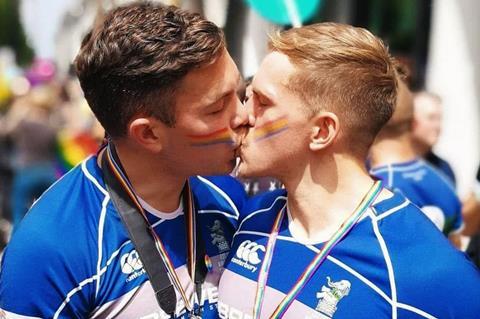 Whānau Mārama: New Zealand International Film Festival has unveiled the programme for its 2020 edition (July 24-August 2), which will take place as a mixture of physical and online screenings.
The event, which is Marten Rabarts' first as festival director since taking the position in October last year, will open with Justin Kurzel's surreal Australian drama True History Of The Kelly Gang, at the Waterfront Theatre in Auckland. An online premiere will run concurrently.
Seventy-nine features and seven shorts collections will screen at the festival, with 41 countries represented.
World premieres include documentary Steelers – The World's First Gay Rugby Club, directed by Australian news reporter Eammon Ashton-Atkinson.
Originally scheduled to premiere at BFI Flare: London LGBTIQ+ Film Festival before that event's cancellation, it tells the story of the London-based Kings Cross Steelers through the struggles of three players to overcome oppression and claim their identities.
Further titles include Ai Weiwei's documentary Vivos; Iranian feature Just 6.5; Sundance 2020 audience award winner Identifying Features; Martin Eden, winner of TIFF 2019's Platform section; Hirokazu Kore-eda's The Truth; and Amjad Abu Alala's You Will Die At 20, winner of best first feature at Venice 2019.
Four previously announced New Zealand features will have their world premieres at the festival. A programme of extra events for both cinemas and online will include filmmaker introductions, Q&As, masterclasses, and awards ceremonies. The full programme is available on the festival website.
The festival is also collaborating for the first time on European Film Promotion's Europe!: Voices Of Women In Film initiative, which Sydney Film Festival has partnered on for the past four years.
"This has been incredibly complex to secure both in-cinema and online rights for films, but we are very pleased to announce we will have 27 films showing in venues in eight cities including Auckland, Wellington, Christchurch and Dunedin," said Rabarts, who confirmed that all films screening in venues will also play as part of the festival's digital offering NZIFF At Home – Online.
New Zealand has reduced the spread of coronavirus compared to many other countries, with just 1,516 cases and 22 deaths (four per 1m people) as of June 24. Cinemas have been able to reopen since early May, with the country on its lowest lockdown level since early June.