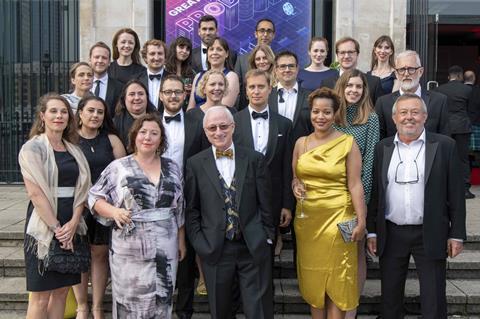 Industry guests from Channel 4, BBC Films, Universal Pictures International, Netflix and the Walt Disney Company were among those who raised £300,000 at the annual fundraising gala of the UK's National Film and Television School (NFTS) held at London's Old Billingsgate venue on June 25.
This year's event was themed 'Great British Producers', and 25 alumni from the NFTS Producing MA were in attendance. They included Fodhla Cronin O'Reilly, Bafta-nominated producer and recently-appointed BIFA board member; Anna Higgs head of industry: entertainment at Facebook; and Len Rowles, head of development at Protagonist Pictures.
UK producers including Barbara Broccoli of Eon Productions; Andrew Macdonald of DNA Films & TV; and Kenton Allen and Matthew Justice of Big Talk Productions were also in attendance.
The event was hosted by actor, writer and comedian Nish Kumar, with an auction chaired by Hat Trick Productions co-founder Jimmy Mulville, for which prizes included a day working with Tim Bevan at Working Title Films, and the chance to attend the opening or closing film at the BFI London Film Festival in October.