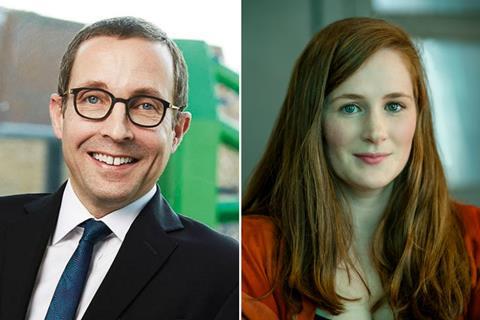 The British Independent Film Awards (Bifas) has set December 1 as the date for its 2019 ceremony, appointed two new members to its board and expanded its application of the BFI Diversity Standards.
Dan Brooke, former chief marketing officer at Channel 4, will replace Laurence Green as chairperson; while Irish producer and Screen Star of Tomorrow 2016 and Future Leader 2018 Fodhla Cronin O'Reilly takes over Claire Jones' spot as producer on the board.
Green and Jones were founding members of the BIFA board in 2015. Board members serve fixed terms of up to four years (two years for distributors).
Brooke and O'Reilly join director Sarah Gavron, publicist Charles McDonald, Curzon CEO Philip Knatchbull and Daniel Robey, CEO of marketing agency ThinkJam on the board.
The board also includes BIFA executive directors Amy Gustin and Deena Wallace, and BIFA co-founders Elliot Grove and Suzanne Ballantyne.
The 2019 ceremony will take place at London's Old Billingsgate venue for the 10th year in a row, and the 11th in total.
Diversity extended
Bifa has also expanded the application of the BFI Diversity Standards, after a trial on the best British independent film award in 2018. Starting from the 2019 awards, the standards will apply to all British features competing in any category. As with last year, films will be assessed against the standards for now, with no mandatory requirement that films meet them at this stage.
Short filmmakers will also be asked to assess their films against the standards, to improve awareness of diversity amongst emerging filmmakers.
Speaking to Screen, Wallace said the standards are being employed as a "learning process" in response to "a need for increased awareness amongst new producers but also amongst those who are reasonably experienced."
"Last year was really useful" she said. "We learnt there are a lot of people you would have thought would know all about this, but whose understanding is quite narrow."
To qualify as British for Bifa, films must meet both industrial criteria (have a majority budget from British sources, and be produced or majority co-produced in Britain) and creative criteria (demonstrate sufficient creative elements from the UK, including British citizens in the cast, crew and creative teams).
In further changes, Bifa is also asking entrants for additional information about their films. This includes the budget of the film in all categories, the size of the crew, and a diversity/inclusion monitoring form for the director(s), writer(s) and producer(s).
As well as his marketing role at Channel 4, Brooke was also board champion for diversity and inclusion, and is the UK government media sector champion for disability employment.
National Film and Television School graduate O'Reilly produced 2013 Oscar-nominated short Head Over Heels, and her debut feature as producer Lady Macbeth was nominated for 15 Bifas in 2017, winning five.
Last year's Bifa ceremony was held on December 2 in London, with Yorgos Lanthimos' The Favourite the big winner with a record 10 awards.