David Puttnam named school's life president.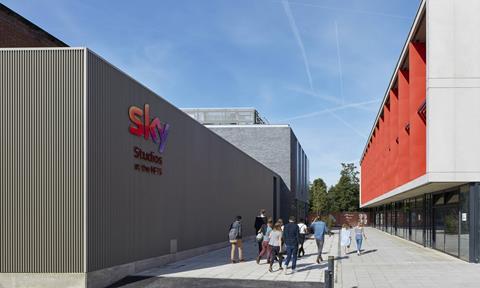 MP and former culture minister Ed Vaizey has officially opened two new National Film And Television School (NFTS) buildings on the school's campus in Beaconsfield.
Titled the Channel 4 Rose Building, after the late senior commissioning editor and Channel 4 David Rose, and Sky Studios at the NFTS respectively, the buildings are part of a £20m development at the School.
At an event held this morning (July 7) on site, David Puttnam was named life president of the NFTS.
The new school facilities include a 4K Digital Content Studio, two teaching buildings, a second cinema, and supplementary teaching space.
Funding for the project form the DCMS (Department for Culture Media and Spor), Channel 4, Sky, and the Buckinghamshire Thames Valley Local Enterprise Partnership, with additional funding from partners including the Higher Education Funding Council for England (HEFCE), the British Film Institute (BFI), Creative Skillset, the Broccoli Foundation/NFTS Foundation, Garfield Weston Foundation, Fidelity UK, Wolfson Foundation, NBC Universal, and the David Lean Foundation.
Ed Vaizey commented: "I'm thrilled to be opening these new buildings. The NFTS is one of the world's leading film schools, and these new facilities will ensure it continues to provide an unrivalled film education to students from all around the world, as well as maintaining the UK's justified reputation for film making."
Stephen Louis, vice-chairman of the School's board of governors, said: "The opening of these state-of-the-art facilities is an important milestone for the NFTS and will ensure it can continue to build its worldwide reputation for delivering excellent film, TV and games education."
Lord Puttnam added: "I'm delighted to accept the Presidency of an organisation with which I've been deeply engaged from the very start. The NFTS is one of our genuinely world-class creative sector organisations and I'm honoured to follow in the footsteps of Lord Attenborough as the school's President."
In April this year, long-serving NFTS director Nik Powell stepped down after 14 years at the helm. Jon Wardle was subsequently announced as his successor in May.