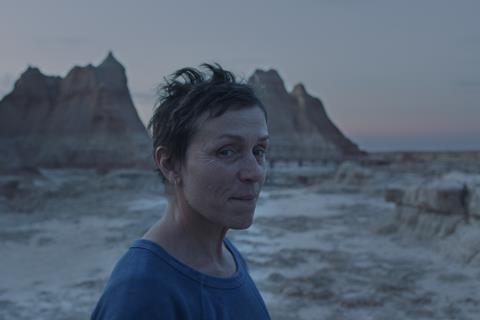 Searchlight Pictures' Nomadland starring Frances McDormand has won the Toronto International Film Festival's (TIFF) People's Choice audience award.
The award is usually a strong indication of at least an Oscar nomination – all winners have done so in the last 10 years, while Green Book and Slumdog MIllionaire won the ultimate prize – and Chloé Zhao's Venice Golden Lion winner about itinerant life on the fringes has earned plaudits from critics.
Nomadland screened at TIFF and Venice, plays New York Film Festival, and was also an official selection of the cancelled Telluride Film Festival. It opens in the US on December 4.
In a recorded statement Zhao said, "Thank you, the audience. We can't do this without you. Cinema is about sharing… please, please keep going because we cannot do this without you. We're so grateful and we hope we'll see you all down the road."
Roseanne Liang's Shadow In The Cloud won the 2020 People's Choice Midnight Madness Award, and Michelle Latimer's Inconvenient Indian took the 2020 People's Choice Documentary Award, as well as the Amplify Voices Award for Best Canadian Feature Film.
Amplify Voices Award went to The Disciple by Chaitanya Tamhane, and Night Of The Kings by Philippe Lacôte.
Regina King's feature directorial debut One Night In Miami came second, followed by Tracey Deer's Beans.
TIFF ended on Saturday (September 19) after organisers staged a hybrid event of Toronto-only physical screenings, online-only screenings for a geoblocked Canadian audience, and a bespoke platform for press and industry.
"TIFF 2020 was a year we won't soon forget," said Cameron Bailey, TIFF artistic director and co-head. "Over the last 10 days, we have experienced community in the truest sense. The pandemic hit TIFF hard and we responded by going back to our original inspiration — to bring the very best in film to the broadest possible audience and transform the way people see the world through film."
"The films and talent featured in this year's festival have left us inspired and moved," said Joana Vicente, TIFF executive director and co-head. "In a time where the very future of our beloved art form was in question due to cinema and production shutdowns and film festival cancellations, we have seen a tenacity of spirit. We're heartened by the support and generosity from TIFF's loyal sponsors, donors, members, and public audiences who encouraged us to deliver a reimagined festival. We're grateful for the industry delegates and press corps who championed TIFF's decision to go ahead with the festival."
TIFF's industry platform welcomed 3,926 international professionals digitally, according to the festival.