The Scottish star, who unveiled the world premiere of his feature directorial American Pastoral in Toronto, will collect the honour at BAFTA LA's awards show on October 28.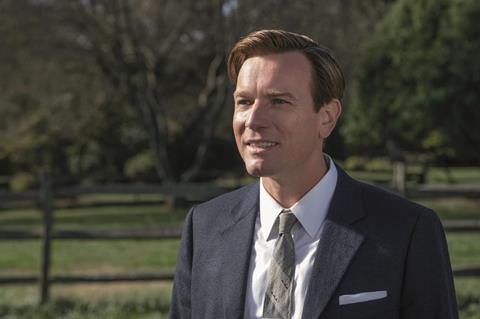 The Britannia Humanitarian Award is presented to someone "who has used the art form of the moving image or their position in the entertainment industry to create positive social change, and actively shine a light on important humanitarian issues."
McGregor has worked with UNICEF to help children in conflict zones in Iraq and Syria.
As previously announced, Ang Lee will collect the John Schlesinger Britannia Award for Excellence in Directing, Samuel L. Jackson the Albert R. Broccoli Britannia Award for Worldwide Contribution to Entertainment, and Ricky Gervais the Charlie Chaplin Britannia Award for Excellence in Comedy.
McGregor recently wrapped production on Trainspotting 2, in which he reprises his role as Renton opposite Jonny Lee Miller, Ewen Bremner and Robert Carlyle. Sony will release the film on February 3, 2017.
Several audience members attending Monday night's screening of TIFF Midnight Madness selection Raw reportedly passed out and required medical attention during the cannibal film. The occurrence is not uncommon at Midnight Madness, where viewers have feinted during screenings in previous years.
Marc-André Grondin has been cast as the lead in arthouse horror thriller Ravenous (Les Affamés), currently shooting in Quebec. Alama Cinema is selling the film in Toronto and Ravenous marks its first genre film. Micheline Lanctôt and Brigitte Poupart round out the key cast and Robin Aubert directs. La Maison De Prod produces and Seville Pictures distributes in Canada.
Pablo Larrain's Jackie will receive its Mexican premiere at the fifth Los Cabos International Film Festival, which runs from November 9-13.
La La Land and Arrival bookend the 52nd Chicago International Film Festival that runs from October 13-27.
John Krasinski has joined Kathryn Bigelow's Untitled Detroit Project, which takes place against the backdrop of the city race riots over five days in summer 1967. The previously announced cast includes John Boyega, Will Poulter, Jacob Latimore, Algee Smith, Ben O'Toole, Jack Reynor, Kaitlyn Dever, and Hannah Murray. Bigelow is producing with the project's screenwriter Mark Boal, Annapurna's Megan Ellison and Matthew Budman, and Colin Wilson. Greg Shapiro is executive producer.
Stevie Van Zandt's Rock And Roll Forever Foundation will host the New York premiere of Ron Howard's documentary, The Beatles: Eight Days A Week – The Touring Years on September 15 in a fundraiser to benefit teachers. The film opens theatrically on September 16.
IndiePix Films has struck a partnership with Retro Afrika Bioscope, an independent label of Gravel Road Distribution Group dedicated to restoring and re-releasing forgotten classics of African cinema. The distribution partnership will kick off with 48 vintage 1970s and 1980s genre films rarely seen outside South African borders.