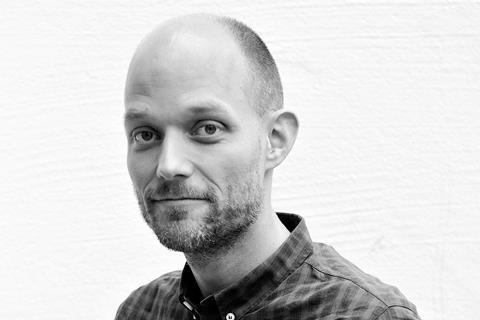 Eskil Vogt's new film The Innocents (De Uskyldige) is one of the projects backed by the Norwegian Film Institute's latest funding round yesterday.
Vogt writes and directs the story about four children (ages 6 to 12), away from their parents' attention, whose innocent play turns into something else. The filmmaking team wrote, "Magic and creepy things start happening. The Innocents is a film for adults and a shocking journey in to the secret world of the children."
Vogt made his directing debut with Sundance award-winner Blind and he has also has collaborated with Joachim Trier on the scripts for Reprise, Oslo, August 31st, Louder Than Bombs and Thelma.
Maria Ekerhovd of MER Film (What Will People Say) produces and the film is expected to shoot later this year. The NFI backs the film with $1.3m (11m NOK) of its $3.4m (29m NOK) budget.
NFI commissioner Silje Riise Næss said,"Vogt's new project is marked by the same powerful imagination and fascination [as in Blind], as well as cinematic playfulness, but in an even more disturbing universe. The Innocents is destined to be a darkly dazzling film, uniting the life we know – childhood among tall apartment buildings, various family constellations behind the doors, and a social realist touch – with a cinematic film experience you will remember for a long time, maybe forever."
Other features backed by the NFI yesterday are: @CHICA_CHILE_NORWAY, directed by Ingvild Søderlind and adapted by Hilde Susan Jægtnes from Maria Navarro Skaranger's debut novel Alle utlendinger har lukka gardiner.
The "fun drama" is about a 15-year-old girl growing up in a multicultural suburb in east Oslo; when her old brother joins a dangerous operation in Afghanistan, her family starts to come undone. Cecilie Aspenes produces for Miso Film Norge and the film will shoot from July.
The film was backed with $820,000 (7m NOK) of its $1.4m (12.25m) NOK budget. Søderlind makes her feature debut, after her short Jenny was a festival hit starting at Berlinale 2011. She will be attending Berlin as part of the UP scheme from the Norwegian Film Institute.
Storm is about a single mother and her two kids on a fishing trip when her son falls overboard, and her daughter is accused of pushing him. Erika Calmeyer (whose credits include short Lea and TV show Twin) directs and will also attend the Berlinale on the UP programme.
Johan Fasting wrote the script, and producers are Finn Gjerdrum and Stein B. Kvae at Paradox. NFI backed the film, which will shoot in spring 2020, with $800,000 (6.8m NOK). SF Studios will distribute and also handle international sales.
The NFI commissioners also backed documentary 16 directed by Kenneth Elvebakk and produced by Kari Anne Moe and Gudmundur Gunnarsson of Fuglane. The film follows the lives of four queer youths who are the first ones in their social circles to come out as openly gay. NFI support is $211,000 (1.8m NOK).
In the market scheme there were two films backed. Three Wishes For Cinderella (Tre nøtter til Askepott) is a new live-action family film based on the Czech Christmas classic. The team says the film is a fairtytale with "a princess for a new millennium."
Frederick Howard and Chr. Fr. Martin produce for Storm Films. Cecilie Mosli will direct based on a script by Kamilla Krogsveen and Karsten Fullu. The film received $800,000 (7m NOK) in support towards its budget of $4.5m (38m NOK).
Narvik – Hitler's First Defeat is to be directed by Trollhunter's Andre Øvredal based on Christopher Grøndahl's script. Aage Aaberge, Live Bonnevie and John Einar Hagen produce for Nordisk Film Production.
The story is set in Northern Norway in spring 1940, when the Germans tried to invade in what became Norway's biggest-ever battle on Norwegian soil, and Hitler suffered his first defeat.
Narvik receives backing of $1.8m (15m NOK) toward its $7.4m (63m NOK) budget.
The funding news comes as the Norwegian Film Institute opens its Norway House in Berlin tomorrow (Friday), with lots of special events planned as the EFM's Country of Focus this year. The full list of activities is available here.