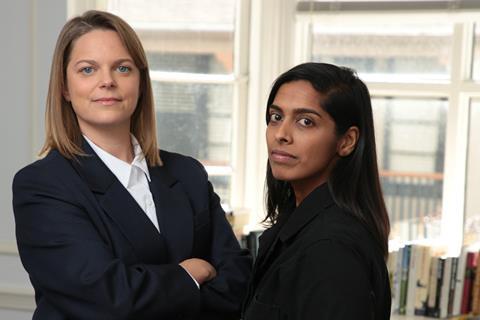 President Barack Obama and Michelle Obama (26) announced on Tuesday that Priya Swaminathan and Tonia Davis have joined as co-heads of Higher Ground Productions.
The executives have begun to build the film and TV slate at the company, which last year signed a multi-year deal to produce both formats with Netflix. Higher Ground expects to share information on its initial line-up shortly.
Swaminathan most recently served at Annapurna overseeing the film development slate and worked to maximise crossover potential across the company's divisions including TV, gaming and interactive. Davis arrives from Chernin Entertainment where she oversaw development and shepherded film and TV productions.
The new hires are joined by Qadriyyah "Q" Shamsid-Deen as creative executive, who most recently worked at Ryan Murphy Television's Half Initiative.
"With Higher Ground Productions, we hope to bring people together around common values and uncommon stories – and Priya, Tonia and Q are precisely the people to bring that vision to life," Barack Obama said. "They're masterful storytellers. They're veterans in the industry. And they not only bring their unique perspectives and life experiences to every project, but they're committed to finding new voices who have their own stories to tell. Michelle and I couldn't be more excited about the team we're assembling."
"Our goal isn't just to make people think – we want to make people feel and reach outside of their comfort zone," Michelle Obama said. "With their thoughtfulness, creativity and empathy, we know that Priya, Tonia and Q will find the common thread within every story to inspire us to be something more. I'm thrilled about this team as professionals – and as people. They're wonderful."
Swaminathan has developed and produced fiction and documentary projects for a range of filmmakers, including Spike Jonze, Bennett Miller and George Clooney. In addition to producing Showtime's Very Young Girls, she has also produced documentaries for MTV and ESPN. She started her career making documentaries in New York.
At Chernin Entertainment, Davis served as an executive producer on the comedy Snatched starring Amy Schumer, and The Greatest Showman starring Hugh Jackman. She was also a producer on horror film Underwater starring Kristen Stewart. Davis previously worked for Walt Disney Studios Motion Pictures, where she was involved in production on live-action titles The Jungle Book and Beauty And The Beast. She is a member of the executive circle for AFI's Directing Workshop for Women and a board member of LIFT, a national non-profit focused on poverty reduction. The Wellesley College was an organiser in New Mexico during the 2004 presidential cycle and ran a private relief organisation in post-Katrina New Orleans.
Shamsid-Deen served as a programme director at Half Initiative. She previously worked with film and television producers Brad Simpson and Nina Jacobson of Color Force. During her career, she has worked on multiple film and television projects including Carissa, American Horror Story, and 9-1-1. The Fulbright Scholar and graduate of Howard University's directing programme and California Institute of the Arts programme sits on the board of the Tebere Arts Foundation located in Kampala, Uganda, an organisation dedicated to keeping African stories alive.