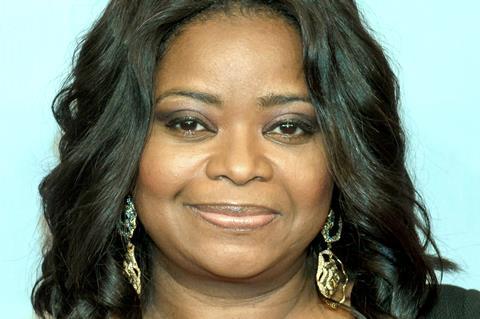 The Taormina Film Festival (June 30-July 6) in Sicily will celebrate the first TV series in its 65-year history when Octavia Spencer flies in on behalf of Apple TV+'s forthcoming true-crime drama Truth Be Told.
The series will debut on the Apple TV app this autumn. Series executive producer/star Spencer will attend the Italian festival, where she will receive the Taormina Arte Award and highlight the series, which is inspired by a true-crime novel by Katherine Barber.
Apple will screen two of its films at the festival. Mark Deeble and Victoria Stone's wildlife documentary The Elephant Queen premiered at Toronto 2018, and Minhal Baig's coming-of-age drama Hala premiered at Sundance earlier this year.
The Taormina Arte Award will be presented to Spencer, Nicole Kidman and Phillip Noyce.
Taormina will open with Bruce Beresford's Ladies in Black. Special screenings will include Danny Boyle's Yesterday, Martha Coolidge's I'll Find You, and Spider-Man: Far From Home.
Oliver Stone will serve as jury president for narrative films.
FEATURE FILM COMPETITION
Allahu Akbar, dir Farhat Qazi (Pak)
Amare Amaro, dir Julien Paolini (Fr)
Azali, dir Kwabena Gyansah (Gha)
Ellen: Die storie van Ellen Pakkies, dir Daryne Joshua (SA)
Hala, dir Minhal Baig (US)
Imaginary Order, dir Debra Eisenstadt (US)
In the Life of Music, dirs Caylee So, Visal Sok (US/Cam)
Nido de Mantis, dir Arturo Sotto Díaz (Cub)
Picciridda, dir Paolo Licata (Ita)
Show Me What You Got, dir Svetlana Cvetko (US)
A Son of Man, dir Jamaicanoproblem (Ecu)
The Song of the Tree, dir Aibek Daiyrbekov (Kyrg/Rus)
Them That Follow, dirs Britt Poulson, Dan Madison Savage (US)
This Teacher, dir Mark Jackson (US)
Vai, dir Beca Arahanga, et al. (NZ)
DOCUMENTARY COMPETITION
Aether, dir. Rûken Tekeş (Tur)
The Biggest Little Farm, dir John Chester (US)
Desolation Center, dir Stuart Swezey (US)
Ghost Fleet, dirs Shannon Service, Jeffrey Waldron (US)
The Hidden Fountain, dir Raquel Chalfi (Isr)
Memphis '69, dir Joe LaMattina (US)
Midnight Family, dir Luke Lorentzen (Mex)
One Child Nation, dir Nanfu Wang, Jialing Zhang (US/Chi)
Picture Character, dir Martha Shane, Ian Cheney (US/Ger/Jap/Arga/Aus)
Sea of Shadows, dir Richard Ladkani (Aus)
Seadrift, dir Tim Tsai (US)
A Tuba to Cuba, dirs T.G. Herrington, Danny Clinch (US/Cub)
CENTER STAGE COMPETITION
Arrythmia, dir Gibran Bazan (Mex)
Dallas in Prizzi, dir Luca Vullo, It)
Daughter of the Wolf, dir David Hackl (Can)
Demolition Girl, dir Genta Matsugami, Jap)
Flatland, dir Jenna Bass(SA)
Haiti, dir Marco Salom (It)
Happy Face, dir Alexandre Franchi (Can)
La Partita, dir Francesco Carnesecchi (It)
Ploey – You Will Never Fly Alone, dir Árni Ólafur Ásgeirsson (Ice/Bel)
Slipaway, dir Julia Butler, Daniel Mentz (US)
Spare Room, dir Jenica Bergere (US)
Spiral Farm, dir Alec Tibaldi (US)
Suburban Wildlife, dir Imogen McCluskey (Aus)