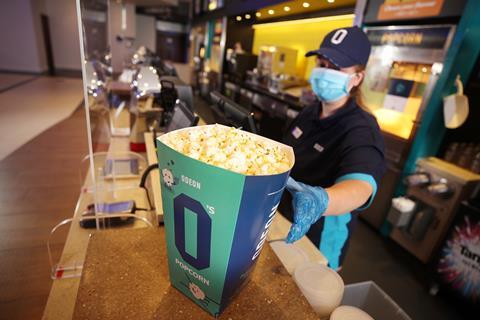 UK exhibitor Odeon is set to open the "vast majority" of its sites on May 17, following the lifting of restrictions in England and Scotland.
Odeon, owned by AMC Theaters, is the UK's second-largest cinema chain with a market share of 21.9%.
It confirmed its Luxe venues in London's Leicester Square, Manchester's Trafford Centre and Birmingham's Broadway Plaza will be among the sites to reopen.
Safety measures will include limiting capacity; guaranteed unoccupied seats between parties for social distancing; face coverings for staff and audiences; and staggered showtimes.
A reopening date for cinemas in Wales has not yet been announced.
Multiplex openings
Odeon is the first UK multiplex chain to confirm its reopening dates. In March, Cineworld, the UK's largest chain by market share with 23%, confirmed it would reopen its venues from May, including the Picturehouse chain (2.2%) which the company owns, although it is not yet confirmed this will be May 17.
Further chains to have confirmed a May reopening are Showcase (6% market share); and Everyman (3.1%) in 33 of its 35 sites. Vue, the third-largest chain with a 20% share, is yet to confirm its plans.