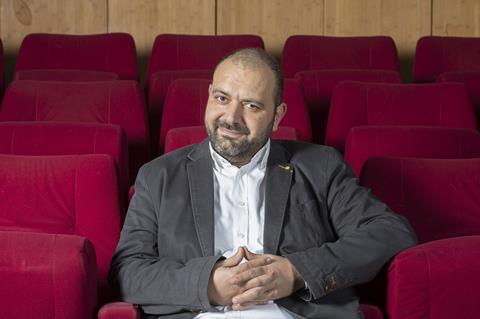 Syrian documentary maker Orwa Nyrabia has been appointed on a four-year contract as the new artistic director of International Documentary Festival Amsterdam. His appointment was announced officially today (30 Jan).
Nyrabia is taking the helm at one of the biggest documentary festivals in the world. He succeeds interim director Barbara Visser, who oversaw the 2017 edition after IDFA founder Ally Derks stepped down.
In an exclusive interview with Screen International, Nyrabia spoke of his pride at his appointment and gave some early indications of how he will approach the job.
"To me, it is an opportunity to be part of the industry at large and not to stay limited to producing films." Nyrabia commented.
Born in Syria in 1977, Nyrabia worked as an actor and journalist before, in 2004, he started to produce documentary films. He was one of the co-founders of DOX BOX Documentary Festival in Amsterdam. He had to flee Syria after political imprisonment and has been living in recent years in Berlin.
He has many credits as a documentary producer, among them Dolls, A Woman From Damascus (2008) by Diana El Jeiroudi, Sundance Grand Jury Award winner, Return To Homs (2013), directed by by Talal Derki, and Silvered Water by Ossama Mohammad (Cannes Official Selection 2014).
The challenge now is to continue growing IDFA (which in its last edition posted 285,000 admissions). Nyrabia will be moving from Berlin to Amsterdam and will gradually suspend his producing activities (he currently has three documentary films on the boil).
At IDFA, Nyrabia will be working closely with managing director, Cees van 't Hullenaar.
"We will make it more and more demanding and meaningful to be selected for an IDFA competition," he commented.
The new artistic director is promising to develop further IDFA's Doc Lab, the festival's new media platform. He is also keen to ensure a more harmonious relationship with rival festivals. "I hope that I can help or contribute to a less aggressive international festival circuit," Nyrabia commented.
Nyrabia has a long association with IDFA dating back to 2005, when he was taking his first steps in documentary.
"I've worked with IDFA in every small junction. I was a reader for the (IDFA Bertha) Fund, I was a programmer last year for the special programme, Shifting Perspectives, I pitched in the Forum, I took part in the (IDFA) Academy - I am an IDFA boy!"
IDFA 2018 runs from November 14-25.