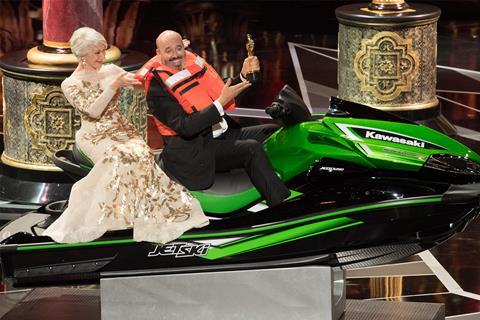 At the start of this year's Academy Awards, presenter Jimmy Kimmel announced that the winner who gave the shortest acceptance speech would win an $18,000 jet ski and a trip to Lake Havasu in Arizona.
He was referencing an age old Oscars complaint, that the show – especially the speeches – were too long.
He said: "This is a really long show. So here's what we're going to do. Not saying you shouldn't give a long speech, but whoever gives the shortest speech tonight will go home with — Johnny, tell them what they'll win."
Cue the curtain opening to reveal the jet ski, presented by Helen Mirren.
"I will be timing you. I have a stopwatch," he added.
The running gag ran throughout the evening, and was referenced by several winners. "Obviously I'm not going to win the ski," joked Gary Oldman during his speech for Darkest Hour.
At the end of the ceremony Kimmel revealed that Phantom Thread costume designer Mark Bridges won the prize, with his speech clocking in at around 30 seconds long.
Bridges, who looked somewhat embarrassed, posed with Mirren, the jet ski and the life jacket on stage as the show concluded.