StudioCanal's adaptation grosses $8m (£5.1m) from its 520 sites to record the distributor's best-ever UK opening.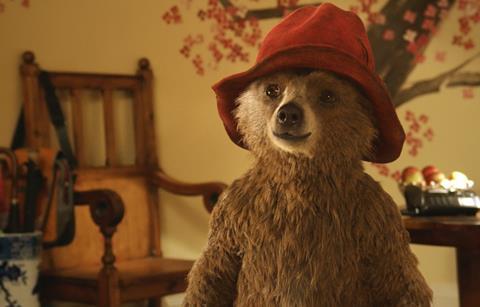 Paddington is unlikely to run out of marmalade any time soon after a record-breaking debut at the UK box office.
StudioCanal's big screen adaptation of the beloved bear scored a mighty $8m (£5.1m) bow from its 520 sites as it dethroned The Hunger Games: Mockingjay Part 1 after just one week as the UK's champion.
It marks the distributor's best-ever debut at the UK box office, topping Tinker Tailor Soldier Spy's $4.4m (£2.81m) from 382 sites. Barring a dramatic collapse, Paddington should become StudioCanal's highest grossing film in the UK which also currently belongs to Tinker with $22.3m (£14.2m).
Paddington even opened ahead of last year's big festive family hit Frozen which took $7.4m (£4.7m) from 505 sites and was released in 3D, going on a lengthy run to take over £40m. Paddington is unlikely to reach those heights but its potential milestones will become clearer after its holdover this coming weekend.
Family competition arrives this coming Friday [Dec 5] in the form of Get Santa and Penguins of Madagascar but, given the strong reviews and word-of-mouth, Paddington is well-set for a long run well into Christmas.
Also for StudioCanal, The Imitation Game is on the verge of £10m after a third weekend drop of just 34% saw it add $2.2m (£1.4m) for $14.9m (£9.5m). Even if Paddington will take the record, the Alan Turing biopic could also outgross Tinker Tailor Soldier Spy come the end of its run.
LIONSGATE
Falling to second after setting the biggest opening of 2014, The Hunger Games: Mockingjay Part 1 took a further non-final $7.7m (£4.9m).
Lionsgate's sequel is now up to $33.4m (£21.2m) as it attempts to overtake Catching Fire's $53.7m (£34.2m) to become the series' strongest performer, and to overtake The Lego Movie's $54m (£34.3m) to become the highest grossing release of 2014 in the UK.
Catching Fire stood at $33.9m (£21.6m) following a second weekend of $8.7m (£5.5m) but, unlike Mockingjay Part 1, it didn't have any major openings to contend with as the highest new entry that weekend was Free Birds at $1.6m (£1m).
WARNER BROS
Horrible Bosses 2 charted fourth following a $2m (£1.3m) debut from its 440 sites through Warner Bros. That's down on its predecessor's $3.3m (£2.1m) UK bow from 409 sites and the comedy sequel is likely to struggle to match that film's $16.5m (£10.5m) result.
Also for Warner Bros, Interstellar posted a $1.8m (£1.1m) fourth weekend for $28.2m (£18m) to date and, as expected, is now Christopher Nolan's fourth-best UK performer. It won't, however, reach Inception's $56.2m (£35.81m) tally.
Japanese action sequel Rurouni Kenshin: Kyoto Inferno took $3,100 (£2,000) on its UK opening from nine Cineworld sites, down on Rurouni Kenshin's $8,200 (£5,240) from eight sites.
EONE
Undoubtedly hit by the arrival of Paddington, eOne's Nativity 3: Dude, Where's My Donkey?! fell 49% with a third weekend of $1.2m (£794,564).
The threequel now stands at $7.3m (£4.7m) and while it will soon overtake Nativity!'s $8.2m (£5.2m) result, Nativity 2: Danger in the Manger!'s $14.5m (£9.2m) tally could prove tricky to surpass.
Also for eOne, Mr. Turner is up to $9.4m (£6m) after a steep 64% drop in its fifth weekend saw it take $208,000 (£132,029), while Nightcrawler and The Homesman stand at $4.8m (£3m) and $210,000 (£133,396), respectively.
DISNEY
Almost a year since its original release, Frozen has re-entered the UK top ten. Disney's animated behemoth was re-launched in 400 sites, mostly with reduced ticket screenings for children, and grossed $283,000 (£180,000) to lift its already-impressive UK haul to $64.4m (£40.96m).
PICTUREHOUSE
Taking $25,000 (£15,650) over the weekend at its 23 sites, Picturehouse's Hockney enjoyed an overall UK debut of $250,000 (£158,859) following a live event and Q&A on Tuesday [Nov 25] and encores on Thursday [Nov 27] at 192 sites.
FOX
Now in its third week of release, Fox's The Drop took $161,000 (£102,694) following a 46% drop and the crime drama has now grossed $2.4m (£1.5m) in the UK, while The Book of Life has taken $9.1m (£5.8m) after a $123,000 (£78,556) sixth weekend.
Also for Fox, Gone Girl has reached $34.7m (£22.13m) in its quest to overtake The Wolf of Wall Street's $35.6m (£22.7m) result to become the UK's highest grossing 18-rated film of all time. At the same stage, Wolf stood at $35m (£22.27m).
BFI
The BFI's re-release of seminal classic 2001: A Space Odyssey got off to a strong start in the UK with a $109,000 (£69,567) debut from its 19 sites, including previews.
It will continue to roll out in UK cinemas throughout this month and beyond and is currently set to reach around 140 cinemas.
CURZON FILM WORLD
Falling almost 50% in its second week of release, Curzon Film World's My Old Lady added $91,000 (£57,919) for $436,000 (£277,205) to date.
ALCHEMY RELEASING
Released exclusively for two weeks across all 82 Vue cinemas, Alchemy Releasing's Kajaki: The True Story grossed $93,000 (£55,125) on its UK bow.
The unique distribution model will see all profits from the film's events (including its premiere) and a portion of profits from the release go to the armed forces charities supported by the film.
From its London premiere and four advance screenings, Kajaki: The True Story also gained $38,000 (£24,195), meaning it has taken a total of $125,000 (£79,320) in the UK as of Nov 30.
METRODOME
Mockumentary What We Do in the Shadows grossed $57,000 (£36,259) in its second weekend for $328,000 (£208,880) in the UK through Metrodome.
UNIVERSAL
Unsurprisingly posting a hefty drop of over 80% following its soft opening, Universal's Get On Up added $30,000 (£19,000) for a ten-day tally of $320,000 (£204,000).
Also for Universal, documentary I Am Ali could only manage a $13,000 (£8,000) UK debut at a site average of just $202 (£129).
NEW WAVE FILMS
In its second weekend, New Wave Films' Winter Sleep added $23,000 (£14,501) for $84,000 (£53,457) to date.
DOGWOOF
Göran Olsson's documentary Concerning Violence enjoyed a sturdy $16,000 (£10,274) UK bow from its three sites through Dogwoof.
ARROW FILMS
Stations of the Cross, which won the Silver Bear for Best Script at Berlinale 2014, recorded a UK debut of $10,000 (£6,514) from its nine sites through Arrow Films, including $2,800 (£1,786) in previews.
UPCOMING RELEASES
This week sees saturation releases for Fox's Penguins of Madagascar, Warner Bros' Get Santa, Paramount's Men, Women & Children, Universal's Black Sea and Entertainment's St. Vincent.
Fox's The Pyramid and Munro Films' Open Bethlehem both receive wide releases, while Peccadillo's Eastern Boys and Metrodome's The Grandmaster are among the films receiving a limited release.