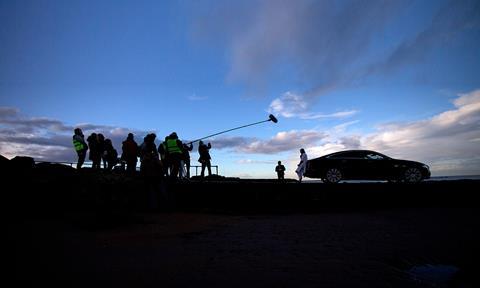 The Polish government has published a series of industry guidelines to safely resume film and TV production in the country in the wake of the coronavirus outbreak.
The 12-page document was issued by Poland's Ministry of Culture and National Heritage after the greenlight was given to resume production on May 18.
Recommendations include the wearing of masks by all crew members. Actors, while exempt from wearing masks during filming, are instructed to socially distance from crew. It is also recommended to limit the number of people on set and that zones should be created to avoid large clusters on crew.
The guidelines are broken down into basic safety rules and more detailed department guidance.
The rules state anyone on set that shows symptoms of an infectious disease must resign from work and everyone must comply with rules around hand washing, social distancing of at least two metres and the "absolute covering of the mouth and nose" with a mask, excluding those in front of the camera.
Physical contact such as shaking hands should be avoided and everyone on set must consent to undergo daily temperate checks, with those who register above 37 degrees unable to participate in production. Disposable gloves are not required except for people measuring temperature, serving meals and makeup artists.
In pre-production, casting sessions should take place online where possible and physical meetings of larger groups should be replaced by video conferencing. Location scouting should also utilise video calls, transmitting the image of the location to the rest of the crew, while the scout themselves should wear a mask.
The extended safety measures cover different departments and include:
Transport: limiting the number of people in buses and cars; restricting the use of public transport or taxis; and the possible installation of a barrier between driver and passengers.
Makeup: performing work with gloves and masks; mandatory hand washing; and both actors and extras bringing their own cosmetics, if possible.
Costumes: reducing time spent acquiring costumes; storing costumes in individual covers; disinfecting jewellery and glasses after each use; and actors opting out of assistance in dressing where possible.
Props: disinfection of the playing props and actor's personal ones after each use and secure storage of props between shots.
Technical Equipment: reducing the number of people who interact with equipment between rental and stage, and the daily disinfection of equipment by a camera assistant.
Sound: using microphones on distance poles and the disinfection of equipment at least twice a day or after each change of actor.
Catering: each crew member using their own bottle and cutlery; eating meals outside (dependant on weather); no breakfast on set (this should take place at home or hotel); and the option for crew to bring their own food to consume in their own car. Serving staff are required to wear disposable gloves and masks.
In post-production, remote editing from home is recommended while contact at post companies should be minimised.
Further measures include recommendations to hire a specialist company to disinfect equipment and whole areas; the use of UV-C germicidal lamps for sterilisation of surfaces such as stage design, props and costumes; and using special effects to create crowd scenes rather than expose actors to large group or cluster extras together.
It is anticipated the guidance will evolve if lockdown restrictions continue to be eased in Poland over the coming months.
Poland has been working to increase the level of production in the country, introducing a 30% cash rebate at the start of 2019. A €12m ($13m) incentive scheme also saw the Polish Film Institute support 26 projects in its first year.
Features set to be filmed in Poland include crime drama Rhino, from Ukrainian filmmaker Oleg Sentsov following his high-profile release from prison in Russia last year; and Jonathan Glazer's Auschwitz-set drama The Zone Of Interest, set to be co-produced and distributed in the US by A24.
The full set of guidelines can be found here.