Kosovo on track to join Creative Europe; LGBT road movie scores US, UK deals.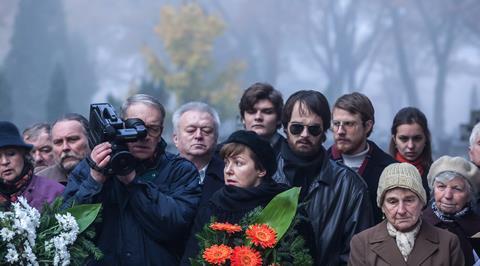 Polish filmmaker Jan Matuszynski's The Last Family has continued its successful festival run by being named best film in the New Europe - New Names competition at the Vilnius International Film Festival (23 March - 6 April).
Matuszynski's feature debut - which is being handled internationally by New Europe Film Sales - had its world premiere at last year's Locarno Film Festival and received the special jury award at the Sofia International Film Festival as well as four prizes at the national Polish Film Awards last month.
The competition's international jury of Gothenburg Film Festival's programmer Freddy Olsson, Russian film critic and programmer Boris Nelep and Fipresci president Alin Tasciyan presented its best director prize to the Bulgarian directorial duo Kristina Grozeva and Petar Valcahnov for their second feature Glory which also picked up the CICAE Art Cinema Award.
Moreover, the acting awards went to Mia Petricevic for her performance in Hana Jusic's Quit Staring At My Plate (also handled by New Europe Film Sales) and to the local Lithuanian actor Marius Repsys for his main role in Andrius Blazevicius's debut The Saint, which also earned him the votes for best Lithuanian actor from the festival audience.
Local hero
Meanwhile, Lithuanian documentary filmmaker Audrius Stonys was the toast of the evening after his latest film Woman And The Glacier, about a Lithuanian scientist studying climate change on a glacier in central asia for the past 30 years, was voted as best Lithuanian dilm by the festival audience and received best film honours in the Baltic Gaze competition.
Stonys was also one of the prize-winners at the festival's industry event, Meeting Point Vilnius (MPV), where his latest documentary project (co-directed with Kristine Briede) Baltic New Wave, about the Baltic school of poetic documentary and its creators, was selected for the Vilnius IFF Goes To Cannes initiative.
Ukrainian filmmaker Sergei Loznitsa was named best director by the Baltic Gaze international jury of Japanese producer Atsuko Ohno, Canadian-Romanian programmer Andrei Tanasescu and Italian film critic Giona A. Nazzaro for his documentary Austerlitz, while the acting awards went to Russia's Petr Skvortsov (The Student) and Sámi actress Lene Cecilia Sparrok (Sámi Blood).
The ceremony also saw the festival audience's award for best lithuanian actress go to Gabija Jaraminaite whose recent credits have included the TV miniseries Tokyo Trial and the forthcoming local feature film projects, the World War II drama Ashes In The Snow and the comedy Miracle, which were both presented in the MPV's Coming Soon showcase.
In addition, the festival audience voted for Paolo Genovese's comedy Perfect Strangers, the second most successful local film in Italy last year, as its favourite film from the programme of Vilnius' 22nd edition.
Industry platform
Seven new projects from the three Baltic states were joined at this year's Coming Soon showcase by a line-up of new talents from other parts of Central and Eastern Europe - from Slovenia through to Georgia - including Horizons by Serbia's Svetislav Dragomirovic and The Infinite Garden by Bulgaria's Galin Stoev.
While some foreign guests expressed reservations about the wisdom of MPV casting its net further afield since the primary reason for coming to Vilnius is to see the latest films from Lithuania, Latvia and Estonia, the spotlight on five documentary projects from neighbouring Belarus included Alexander Mihalkovich's Babushka. Lost In Translation about his grandmother trapped in Crimea to Maksim Shved's The Art Of Censorship about the Belarussian regime's drive against graffiti being humorously reinterpreted as a new street art phenomenon.
Audrius Stonys and Kristine Briede's Baltic New Wave will be joined in Cannes by another three projects: veteran Latvian director Ivars Seleckis' To Be Continued, looking at Latvia's future through the lives of seven children starting school in 2015; Ukrainian debutant Marina Stepanska's Falling, which had been previously presented at the industry platform in Odessa; and Slovak writer-director Pavol Pekarcik's observational documentary A Long Day.
As part of the Vilnius IFF Goes To Cannes project, the four winners will receive accreditation for the Marché du Film and will be able to take part in the intensive Producers Workshop.
TLA Releasing pick up Lithuanian LGBT road movie
Lithuanian director Romas Zabarauskas revealed exclusively to Screen in Vilnius this week that US and UK rights for his LGBT road movie You Can't Escape Lithuania have been sold to TLA Releasing by UK-based sales agent Wavelength Pictures.
The feature had been presented at MPV's Coming Soon showcase last year and was sold by Wavelength to Optimale for all rights to French-speaking territories during this year's Berlinale.
Zabarauskas, who was recently awarded development support from the Lithuanian Film Centre for his next feature, the Belgrade-set The Lawyer, explained that he had negotiated non-exclusive deals with TLA in the past for his short Porno Melodrama and the feature debut We Will Riot for VoD and DVD sales via TLAvideo.com.
Zabarauskas added that You Can't Escape Lithuania will also be presented later this month in neighbouring Belarus in the capital of Minsk and Vitsebsk as part of the third edition of the Northern Lights Nordic Film Festival (April 19 -25) which is expanding this year to include titles from Estonia, Latvia and Lithuania.
Kosovo on track to join EU's Creative Europe
Kosovo has the European Union's Creative Europe Culture and MEDIA sub-programmes in its sights from 2018 after prime minister Isa Mustafa and his Cabinet approved a decision to begin negotiations on Kosovo's membership of the support programme for the cultural and creative sectors this week.
Speaking exclusively to Screen on the sidelines of the European Film Forum in Vilnius, Arben Zharku, director of the Kosovo Cinematography Center, said that the negotiations could be completed by the end of this year so that his country could join others in the region such as Serbia, Montenegro and Bosnia and Herzegovina as countries eligible to participate in Creative Europe.
The Kosovo government also announced that it will be negotiating to join three other EU programmes: Erasmus+. COSME and Europe for Citizens.
Transilvania Pitch Stop expands
The Transilvania Pitch Stop (TPS) will go international for its fourth edition from June 9-10 during the 16th edition of the Transilvania International Film Festival (TIFF) in Romania's Cluj.
TIFF's head of industry Dorina Oarga told Screen in Vilnius this week that the platform for the development and pitching of feature projects will be extended this year from Romania to include films looking for European co-production from Serbia, Hungary, Bulgaria. Ukraine, Russia, Moldova, Greece, Turkey and Georgia.
For the first time this year, a jury of international professionals will award the €20,000 Eurimages Co-production Development Award to one of the 12 TPS projects selected for the platform.