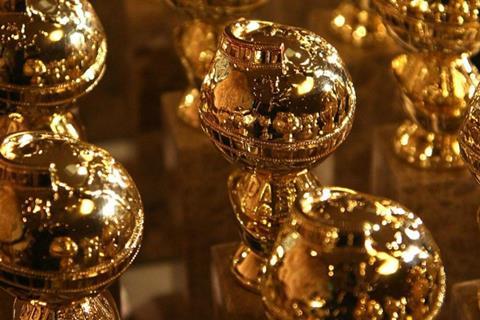 UPDATED with HFPA response: More than 100 publicity companies from the US and Europe have called on the beleaguered Hollywood Foreign Press Association (HFPA) to "swiftly manifest profound and lasting change" in its operations.
Until the Golden Globes group makes plans for such change clear, the PR companies say they "cannot advocate for our clients to participate in HFPA events or interviews".
The companies – including 42West, DDA, ID, MPRM, Rogers & Cowan/PMK, Slate PR and The Lede Company – declared their concerns in an e-mail to the HFPA's general counsel, president and board chair.
In response, the HFPA issued a lengthy statement reiterating that it is "committed to making necessary changes within our organisation and in our industry as a whole. We also acknowledge that we should have done more, and sooner."
The organisation said that to demonstrate that commitment it has approved a plan to expand its membership (currently at around 90) to at least 100 this year, with 13% of the total being Black journalists.
The strongly-worded message from publicists comes as the HFPA faces mounting criticism following reports in the Los Angeles Times questioning the group's ethics and noting that it currently has no black members.
Last week, the Association said it had hired a racial equity expert and an outside law firm to help it implement "transformational change" on diversity and inclusion in its ranks. However the move came on the same day that Time's Up issued a list of more radical recommendations for reform at the group.
Now the publicists have joined the chorus for what the e-mail says should be "transformative change" in an organisation where "systemic inequity and egregious behaviour" continue. The change is needed, says the e-mail, "to eradicate the longstanding exclusionary ethos and pervasive practice of discriminatory behavior, unprofessionalism, ethical impropriety and alleged financial corruption endemic to the HFPA, funded by Dick Clark Productions, MRC, NBCUniversal and Comcast."
The publicists say they want to "be part of the solution".
"While we stand ready to support your good faith efforts," the e-mail goes on, "please know that anything less than transparent, meaningful change that respects and honours the diversity and dignity of our clients, their colleagues and our global audience will result in immediate and irreparable damage to the relationship between our agencies, our clients and the Hollywood Foreign Press Association and those who sanction the institutional inequity and insular culture that currently define it."
The HFPA response to the publicists said that working with its diversity advisor the group has already identified a number of "workstreams," among them quarterly training sessions on diversity, equity and inclusion (DEI) and "introductions to prospective strategic DEI partner organisations."