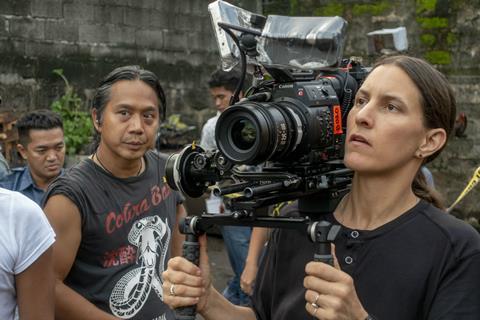 Production has wrapped after 17 days around Metro Manila in the Philippines on the politically charged thriller A Violet Night, which the producers are shopping at Busan.
Ron Morales is directing from his screenplay about a foreign journalist who risks her life to expose the truth when she becomes entangled with the Filipino government's brutal anti-drug crusade.
Imprint Pictures and Harriet Pictures from the US are producing the film with production services provided by Outpost Visual Frontier and Epic Media, both from the Philippines.
Rebecca Lundgren (Graceland) and Joshua Sobel (The Gasoline Thieves, Are We Not Cats) serve as producers, with Caleb Negassa and JB Rodriguez Eudela on board as co-producers.
Evelyn Caesar Munroe stars alongside Arturo Castro and Adam Bakri. Alvin Anson, Ana Abad Santos, and Arnold Reyes round out the key cast.
"Telling this story is my way of bringing awareness to the atrocities taking place in my homeland," said Morales. "If a nation uses a 'war on drugs' as a scapegoat for social injustice, the rest of the world needs to be warned."
The producers are attending the Asian Project Market in Busan to meet international sales teams and distributors.