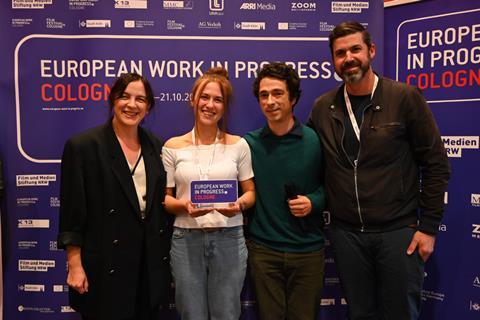 Projects from Chile and Lebanon were among the seven prize-winners at the fourth edition of European Work in Progress (EWIP), held in Cologne from October 19-21.
An international jury including broadcaster Alexander Bohr, sales agent Clémence Lavigne and producer Fabian Massah of Berlin-based Endorphine Production awarded in-kind prizes worth a total of $60,528 (€52,500).
Two awards of stage and room rental services by MMC Studios in Cologne were presented to Lebanese writer-director Cyril Aris for his documentary Dancing On The Edge of A Volcano; and Chilean-born Francisca Alegria's debut feature The Cow That Sang A Song About The Future.
Dancing On The Edge of A Volcano, produced by Katharina Weiser of Leipzig-based Reynard Films with Abbout Productions in Beirut, follows the journey taken by Lebanese filmmaker Mounia Akl and her producer Myriam Sassine to shoot her first feature Costa Brava Lebanon after the film's pre-production was abruptly curtailed by the port explosion in Beirut in August 2020.
Akl was subsequently able to go into production and the completed film premiered at this year's Venice Film Festival in the Orizzonti section.
The Cow That Sang A Song About The Future, which marks the first co-production collaboration between France's Cinema Defacto and Germany's Match Factory Productions, had been developed over the past five years, including participating in the Sundance screenwriter's and director's labs. It is expected to be delivered by the beginning of 2022.
K13 Studios' award of dubbing services went to Argentinian filmmaker Francisco Paparella's second feature Three Brothers, a co-production between Argentina, Chile, Germany and France. Bulgarian co-directors Zlatina Teneva and Ilian Metev received K13's award of sound mixing for their observational documentary on a Covid ward in A Provincial Hospital.
LAVAlabs Moving Images' award of visual effects went to Colombian director Fernando López Cardona's debut feature Memento Mori, described as "a dark existential drama with elements of magical realism" by the German co-producer Eike Gorecka of Halle-based 42Film. ARRI Media's award of colour grading services went to Spanish writer-director Carlota Pereda's thriller Piggy, produced by Morena Films with France's Backup Studio and with Charades onboard as international sales agent.
And Berlin-based agency ZOOM Medienfabrik will be offering international festival PR services to Russian-Georgian co-production Nina by Oksana Bychkova, starring Yulia Peresild – who shot in space at the ISS space station with director Klim Shipenko last week - and Evgeny Tsyganov, whose credits include Red Sniper and The Man Who Surprised Everyone.