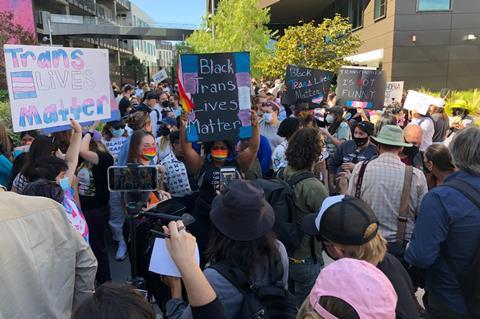 Organisers at a rally in Hollywood on Wednesday (October 20) to support Netflix trans employees who staged a walkout over the handling of Dave Chappelle's latest comedy special have called on the streamer to remove images of Chappelle at the company's offices and invest in trans and non-binary content.
Activists led by media personality and rally organiser Ashlee Marie Preston were joined outside the streamer's Hollywood offices by a crowd of more than 100 people including Transparent creator Joey Soloway who called for a trans person to be added to the Netflix board.
Among other demands organisers called on the streamer to assess internal processes around commissioning to enable diverse feedback; hire more trans executives; add a disclaimer before Chappelle's show The Closer warning viewers it contained what they said was transphobic language, misogyny, homophobia and hate speech; and promote positive trans content like Disclosure. Netflix co-CEO Ted Sarandos has pointed out Chappelle warns viewers about content at the start of his show.
Speaking to Screen Preston said she had invited Sarandos and co-CEO Reed Hastings to a meeting to address concerns. "If we don't hear back we will shake the nest to see what's going on," she said. "We're not going away. This is the beginning." At time of writing Preston's associates said she had not received a reply.
Referring to remarks by Sarandos on Tuesday in which he admitted he "screwed up" internal communications over the company's airing of The Closer and could have shown more humanity when staff expressed hurt over the content of the show, Preston said: "It's a start. I don't think he is there yet but if he tells us he is there it's important for us to show up and have the conversation with him."
"We're trying to achieve equity," she continued. "It's not enough to have trans and non-binary people visible in the workplace – it's important to have people at the table that moves the company forward."
"We showed up for the trans and non-binary staff at Netflix so they know every time they [act] they have the support of the entire community."
Preston said the support of shows like The Closer "opened up the floodgates of hate and we have to be the bearers of that". She said she had received hateful messages via social media on the morning of the protest.
At one point early on Wednesday afternoon counter-protestors turned up bearing placards with the legend "Jokes are funny" and jostled against protestors. Some people drove past and shouted at the crowd, while others expressed support from their cars.
A couple of Netflix staff who took part in the walkout told Screen they worked in various departments at the company but preferred not to comment beyond that. Last week Netflix fired an employee for allegedly leaking financial information about The Closer that appeared on Bloomberg News and revealed Netflix spent $24.1m on The Closer compared to $21.4m on Squid Game, the company's most watched TV show ever that has been seen by more than 142m subscriber households.
At time of writing Netflix had not commented on the rally's demands or Preston's request for a meeting. Earlier in the day the company issued the following statement: "We value our trans colleagues and allies, and understand the deep hurt that's been caused. We respect the decision of any employee who chooses to walk out, and recognise we have much more work to do both within Netflix and in our content."