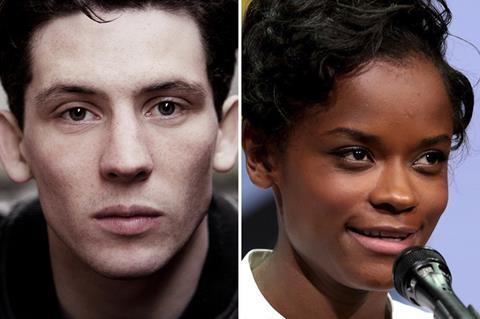 Frank Berry's Provision, starring Letitia Wright and Josh O'Connor, has received a boost of €700,000 ($827,000) in the latest round of funding from Screen Ireland.
Dublin-based Subotica Entertainment is producing the drama, in which Wright plays an African woman fleeing persecution who ends up spending more than two years in Ireland's asylum system, where she befriends a security guard, played by O'Connor.
Irish writer-director Berry's previous feature was teenage prison drama Michael Inside, which won best film at the 2018 Irish Film and Television Awards and best Irish feature at Galway Film Fleadh. Shooting on Provision is due to start in April in Ireland.
Subotica has also received an undisclosed amount from Screen Ireland for Emer Reynolds' Joyride, set to star Olivia Colman, which is written by Ailbhe Keogan. It aims to film on location in the west of Ireland this year. Reynolds' The Farthest won an Emmy in 2018,. Colman will play a woman on an adventure who is unexpectedly joined by a cheeky youngster. Embankment is handling international sales.
Other projects to benefit in Screen Ireland's latest round of funding decisions include an animated adaptation of Roddy Doyle novel A Greyhound Of A Girl, which has been awarded €250,000 ($295,000).
Dublin-based Jam Media has newly boarded the feature, which is produced by Luxembourg's Paul Thiltges Distributions and Italy's Aliante. The UK's GFM Animation is co-producing and handling sales.
It is directed by Italy's Enzo D'Alò, whose animated adaptation of Pinocchio opened Venice Days in 2012, and is scripted by D'Alò and Dave Ingham. The ghost story follows four generations of women travelling on a midnight car journey and the cast includes Brendan Gleeson, Sharon Horgan and Rosaleen Linehan.
Also receiving funding is period drama Mr Malcom's List, which was awarded €300,000 ($355,000) for Dublin-based Blinder Films. The UK's Emma Holly-Jones directs from a screenplay by Suzanne Allain, who has adapted her own novel.
Starring Zawe Ashton, Freida Pinto and Theo James, it tells the story of a society lady who is rejected by London's most eligible bachelor when she fails to meet one of the terms on his list. Embarrassed and humiliated, she asks her friend to trick him into thinking she is his perfect match. Filming is underway on location in Ireland.
Other projects backed by Screen Ireland include Pat Collins' adaptation of John MaGahern's novel That They May Face The Rising Sun, a portrait of life in a rural community, for which South Wind Blows received an unquantified offer.
In addition, the second series of period drama Dead Still saw Dublin-based Deadpan Pictures receive a boost of €300,000 ($355,000) from Screen Ireland. Craig David Wallace will direct from a screenplay by John Morton.