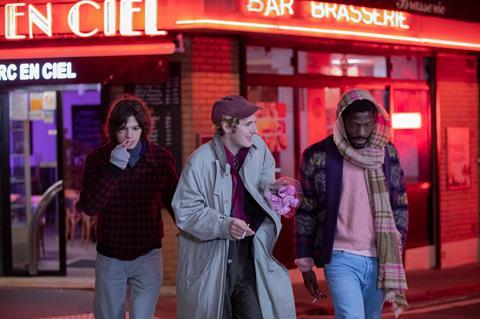 Paris-based Pyramide International kicks off sales on French director Christophe Honoré coming of age drama Le Lycéen at this week's European Film Market (February 10-17).
Set over the course of one winter, it revolves around a 17-year-old high school student struggling to get to grips with new challenges posed by death, life, the city and "the temptation of renouncement". In a bid to regain his momentum, he decides to ditch the lies he has been feeding himself.
Rising French actor Paul Kircher, who made his big-screen debut in the 2020 teen comedy hit How To Make Out (Tu as Pécho), stars as the protagonist in a cast also featuring Vincent Lacoste, Xavier Giannoli, Juliette Binoche and Honoré
It is produced by Honoré's long-time producers Philippe Martin, David Thion at Paris-based Les Films Palléas. Pyramide International has released a first image for the film which is in post-production. It is Honoré's 14th feature after On A Magical Night, which world premiered in Cannes Un Certain Regard.
Le Lycéen is among five buzzy features being launched by Pyramide International this EFM, which marks its first international market since Cannes.
The company will also commence sales on Chilean filmmaker Patricio Guzmán documentary My Imaginary Country, in which he explores the protests that exploded onto the streets of Chile's capital of Santiago in 2019 as the population demanded more democracy and social equality around education, healthcare and job opportunities.
Currently in post-production, it is produced by long-time collaborator Renate Sachse at Atacama Productions. Guzmán's last documentary The Cordillera Of Dreams world premiered in Cannes in 2019, while the director debuted The Pearl Button in competition in the Berlinale in 2015, winning the prize of the ecumenical jury and the Silver Bear for best script.
Further new additions comprise North Macedonian director Teona Strugar Mitevska's Sarajevo-set drama The Happiest Man In The World, French filmmaker Philippe Faucon's Les Harkis and Alice and Benoit Zeniter's Avant LEffondrement
The Happiest Man In The World is Misteka's fifth film after the feminist drama God Exists Her Name Is Petrunya, which world premiered in competition in Berlin in 2019 and when on to win the European Parliament and the European Film Academy Lux Prize for best film.
Exploring the human legacy of the Yugoslav War, the new feature revolves around a 40-year-old single woman living in Sarajevo, who feels her biological clock is ticking. She goes to a dating event, where she is matched with a 43-year-old banker but he is looking for forgiveness rather than love.
Faucon's Les Harkis explores the fate of Algerians who served in the French army in the Algerian War of Independence in the 1950s. These fighters known as Harkis were then abandoned when France withdrew from the country in the early 1960s. Faucon previously tackled the subject in his 2005 feature The Betrayal.
Avant LEffondrement is the debut feature of celebrated French-Algerian novelist Alice Zeniter. She co-directs with husband Benoit Zeniter. Niels Schneider stars as a legislative elections campaign manager who is sent an anonymous letter containing a positive pregnancy test out of the blue. The cast also features Ariane Labed and Souheila Yacoub. It is produced by Elzevir Films.
Previously announced upcoming films on the company's slate include Greek film Panos H. Koutras's Athens-set contemporary social satire Dodo and a trio of first features: Léopold Legrand's The Sixth Child, Eve Duchemin's Time Out and Florent Gouëlou's Three Nights A Week.
The company will also market premiere Israeli director Pini Tavger's coming of age drama More Than I Deserve, about a Ukrainian immigrant boy getting to grips with life in Israel, which debuted at the Jerusalem International Film Festival over the summer, winning best screenplay.