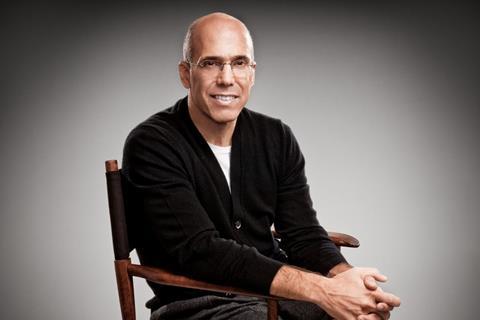 Jeffrey Katzenberg's mobile short-form content platform Quibi is looking at "strategic options" including a possible sale, according to a report in The Wall Street Journal.
The company launched on April 6 shortly after the pandemic lockdown had come into effect in the US, and despite a reported $1.75bn in backing has struggled to attract subscribers.
The service offered a three-month free trial and said the launch drew 3.5m customer instals (app measurement service Sensor Tower said 2.9m) and 1.3m active users in its early months, well below internal projections.
In the summer Katzenberg told The New York Times, "I attribute everything that has gone wrong to coronavirus."
The Journal article said Quibi is also looking at a cash raise or an IPO through a merger with a special purpose acquisition company.
A Quibi spokesperson told Screen, "Quibi has successfully launched a new business and pioneered a new form of storytelling and state-of-the-art platform. Meg [Whitman, CEO] and Jeffrey are committed to continuing to build the business in the way that gives the greatest experience for customers, greatest value for shareholders and greatest opportunity for employees. We do not comment on rumor or speculation."
Quibi has struck partnerships with big-name content creators such as Steven Spielberg, Idris Elba, Antoine Fuqua, Lena Waithe, Anna Kendrick, and Rachel Brosnahan.