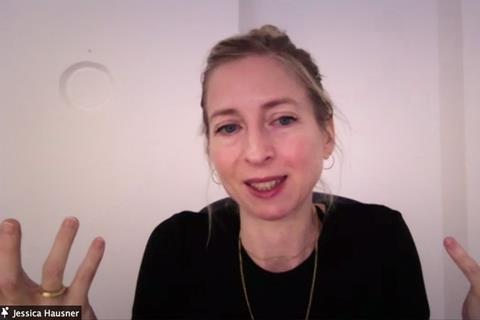 Austrian director Jessica Hausner is set to return to the UK to shoot her next feature Club Zero, about a group of young people who form a cult together with a teacher.
Speaking to Screen after a masterclass at the Doha Film Institute's online Qumra event on Wednesday (March 17), Hausner said she is close to completing the screenplay and is aiming to go into production next year.
"It's a lot about eating - eating disorders and eating behaviour. The plan is we will shoot in the UK again and it's going to be an English-language film," she said.
It will be the filmmaker's second time filming in the UK after her 2019 drama Little Joe, which was backed by the BFI and the BBC and world premiered in competition in Cannes, with Emily Beecham winning best actress.
"The mentality of the British is not so far away from the mentality of the Austrians. They both have a very dark humour, very wry humour. That is important. If you want to connect, it is important to be able to laugh about the same stuff," she added.
Her Vienna-based company coop99 will produce with long-time collaborator Philippe Bober at Paris and Berlin-based Coproduction Office, which will also handle international sales. The rest of the co-production and financing arrangements have yet to be set.
Hausner and Bober met when the latter was an aspiring young producer and came to see her medium-length film Inter-View when it world premiered in the Cannes Film Festival in 1999, garnering the Cinefondation Award – Special Mention. By that stage, Hausner had already written the script for her debut film Lovely Rita.
"The important moment was that I told Philippe that Inter-View was meant to be 90 minutes long but ended up being 50 minutes long so I threw away 40 minutes of material to make that film work. He was sort of impressed and I was impressed that he was impressed," Hausner remembers. They have worked together ever since.
Creation of coop99
In the masterclass, Hausner talked about the creation of coop99 in 1999 with directors Barbara Albert, Antonin Svoboda and cinematographer Martin Gschlacht.
She revealed they had been inspired in part by compatriot filmmaker Michael Haneke who proved it was possible for an Austrian director to make an arthouse film with international resonance at a time when there was not a strong local independent cinema scene in the country.
Haneke's 1989 debut feature The Seventh Continent had been "a revelation", she explained. "It was so incredible that an Austrian filmmaker was actually doing this sort of art-house cinema that has an international meaning. It was very clear, at least to me, right from the beginning that this is an inventor of film language, she said.
It encouraged Hausner and the other cofounders of coop99 "not to let ourselves get too influenced by what was going on in Austria back then…Back then, there was not a very strong film industry in Austria. The films that were made back then were basically for the Austrian audience."
The company has produced more than 30 features including all of Hausner's films and many co-productions including the Toni Erdmann and most Jasmila Zbanic's Quo Vadis, Aida?, which is nominated in the best international film category this year.
Through coop99, Hausner has a financial stake in her films. "If something goes wrong, I also pay with my own money. This is the one disadvantage. [But] it is not even a disadvantage because it makes sure I don't play around."
A childhood steeped in art
During the wide-ranging Qumra masterclass, moderated by Columbia University academic Richard Peña, Hausner also reflected on her childhood in which the arts were an intrinsic part of her daily life. Born in Vienna in 1972, Hausner is the daughter of late artist Rudolf Hausner, one of the leading painters in the Vienna School of Fantastic Realism. Her mother was also an artist as are several of her siblings.
"The conversation at every dinner table was about visual art," Hausner remembers. "They used to discuss about exhibitions, other artists and this and that…mostly negatively. They were never satisfied with anything."
When the family went on holiday, it was not to the beach but rather to museums.
As she grew up, Hausner began to rebel against her father's realist creed. At the age of 16, she discovered the work of the radical German conceptual and performance artist, Joseph Beuys, when visiting her older sister in Berlin.
"We went to an exhibition and afterwards she gave me for a birthday present two very big catalogues about Beuys. I had those two books as a bible. Every time I met someone knew, I said, 'Do you like Beuys?' All sorts of people didn't even know who I was talking about. What fascinated me about his vision of art was the idea that the context creates the piece of art. It's not handicraft or genius."
Her father disapproved. He was a master craftsman who "hated the idea that Beuys said everyone can do it [art]." Nonetheless, Hausner's father was a cinema lover, albeit one with very austere tastes. She credits him with introducing her to the work of Ingmar Bergman, Akira Kurosawa and Luis Buñuel. "I didn't even know very much about more commercial films. Only later I understood there is another side of film not at all related to art."
In her early films such as Lovely Rita and her second 2004 work Hotel, both of which screened in Cannes Un Certain Regard in Cannes, Hausner stripped down the dialogue. Her emphasis was on looks and gestures which expressed the characters' true feelings, or the "strange" sounds you hear in "an empty room when no-one speaks."
"The dialogue is actually not telling what is really true, what is really happening. There is always this unspoken layer behind," the director reflected. "I've always been interested in having a certain look on reality that shows us what we think is normal or common and suddenly you see it from a perspective where it becomes strange and unknown - and also uncanny."
Hausner also discussed her last film Little Joe, about a genetically modified flower capable of making its owner happy, and her use of genre to sci-fi and social satire.
"Genre is an excellent playground for filmmakers like me…genre has its own rules and it's a sort of deal between the filmmakers and the audience…the real genre film gives the audience what they expect. The codes are known and they are respected and fulfilled," the director suggested. "My films very often talk about the fact that this is basically also how we function in life. Everyone of us has their role to play. Also, in society, we have certain codes."