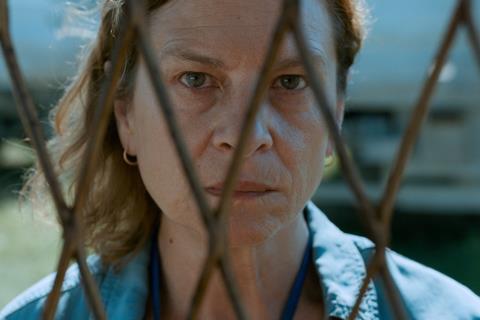 Bosnian director Jasmila Žbanic's drama Quo Vadis, Aida? has scooped the top prize at the fourth edition of the El Gouna Film Festival (October 23-31), its $50,000 Golden Star for best narrative film.
The feature, which revisits the events leading up to the 1995 Srebrenica massacre, world premiered in competition in Venice and has since been selected as Bosnian's entry for the best international category at the 2021 Oscars.
Jasna Duricic also won the El Gouna Star for best actress for her performance in the film as a local school teacher-turned-interpreter for the UN on a desperate mission to save her two sons and husband when the Serbian army rolls into town.
In other awards, Italian directorial duo Damiano D'Innocenzo and Fabio D'Innocenzo's drama Bad Boys, which originally premiered in Berlin, won the $25,000 Silver Star for best narrative film.
Azerbaijani director Hilal Baydarov's road movie In Between Dying, which also debuted in Venice, came in third, winning the $15,000 Bronze Star for narrative film.
Tunisian director Kaouther Ben Hania's wry drama The Man Who Sold His Skin won the $20,000 El Gouna Star for best Arab narrative film award.
It was one of three Arab-language features competing in the 16-title competition alongside Palestinian director Ameen Nayfeh's 200 Metres and Moroccan filmmaker Ismael Ferroukhi's Mica.
Best actor went to Ali Suliman for his performance in 200 Metres as a man living in the West Bank, who embarks on a complicated journey to join his family on the other side of Israel's separation wall when he gets news that his son has been injured in an accident.
There was also a jury special mention for Serbian director Ivan Ikic's drama Oasis.
In the documentary category, South African filmmaker Teboho Edkins's Days Of Cannibalism won the top $30,000 Golden Star, followed by Sam Soko's Softie, which clinched the $15,000 Silver Star and Michael Dweck and Gregory Kershaw's Truffle Hunters, which picked up the $7,500 Bronze Star.
The $10,000 El Gouna Star for best Arab documentary went to Palestinian-French-Algerian director Lina Soualem's Their Algeria, charting the complex relationship of her grandparents, who separate after 62-years of marriage and a lifetime spent as Algerian immigrants in a small town in central France.